Canada Post finally coughed up the second half of my Bloomin' Feet package!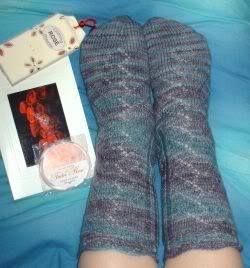 OzKnitter
sent a gorgeous pair of lace socks (based on Nancy Bush's Friday Harbour pattern) in a gorgeous hand=dyed merino-cashmere blend. The socks are amazing and were her first experience with lace socks. My feet never had it so good. There is also rose-scented soap leaves and a rose-scented anti-moth block, currently residing in my closet. (Can you guess that my favorite flower is the rose?) Thank you so much, OzKnitter for being such a great knitter and
Amanda/clothesknit
for organizing Bloomin' Feet. (Boo to the post office for taking so damned long!)
I've been making the post office work this week, though. Today also brought the rest of my
Black Phoenix Alchemy Lab
order (I ordered a bottle of the limited edition Poisson d'Avril and an imp pack, and the Poisson was missing from the first shipment - although that is not indicative of their customer service, and it was rectified as quickly as possible.!) It will be the last shipment for a long while, since the postal rate increase has now made shipping costs insane.
Monday, I picked up my yarn from Allison at
Simply Sock Yarn Co
: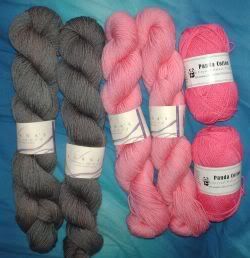 That's Panda Cotton in Fuschia for Mom and Lorna's Laces for me in Pewter (will be
Mad Weave
socks) and Pale Pink (will be
Twisted Flower
socks). A tiny sample of Meilenweit Cotton Stretch yarn came along for the ride, and knit up really nicely into a teensy square. If (a)shipping ever becomes reasonable again or (b) my local LYS stocks it (and in solid colors!), I might pick some up.
OK, time to post this before my internet conks out. (New modem is on its way, as is an upgrade in the service.)