I held off on posting the finished Mad Batik socks (from the Sock Madness tournament), so my Bloomin' Feet socks would get the viewing they so richly deserved!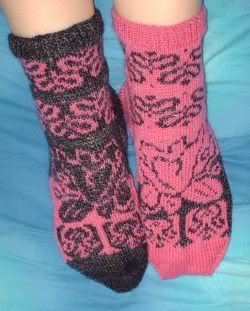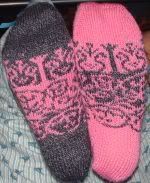 I'm not terribly thrilled with these, because the fit is ... off. You'll note that the toe on the pink sock is much wider across than the black/gray one. The gauge on the foot portion is different on each, due to differing techniques - a learn-as-you-go kind of thing. I knit the black/grey sock first toe up. I knit the foot portion "normally" which led to overly-tight stranding. The pink sock was knit cuff down and the fair isle portions were knit inside out. Tricky to maneuver, but much looser stranding for me. I should have knit the heels/toes/ribbed cuffs on smaller needles, because they're loose and floppy. They will make nice house socks come winter, though.
And, just because, a meme from
sprite's blog
:
Just start your iPod, iTunes, or whatever music player you use, and write down the first ten tracks that come up. No cheating and skipping around until you get the cool songs.
1.
Scattered
, Green Day (from
Nimrod
)
2.
L'hiver Approche
, Les Cowboys Fringants (from
Break syndical
)
3.
Employee of the Month
, John Doe (from
Dim Stars, Bright Sky
)
4.
Can't Decide
, Orange 9mm (from
Driver Not Included
)
5.
Sacrifice
, Orange 9mm (from
Driver Not Included
)
6.
Nature Springs
, The Good, The Bad and The Queen (from
The Good, The Bad and The Queen
)
7.
Eat, Eat, Eat
, Bowser & Blue (from
Humor for Boomers
)
8.
When I Fall
, Barenaked Ladies (from
Born on a Pirate Ship
)
9.
When We Two Parted
, Afghan Whigs (from
Gentlemen
)
10.
The Stars Above
, Sianspheric (from
Somnium
)
Nearly 2500 songs on my iPod and it manages to pull two songs from the same album. (And not even my favorite Orange 9mm album - I prefer
Tragic
.) Go figure. A fairly representative range of music, although no classical (not that there's much there) and no big band/Gershwin. It did skip the embarrassing stuff, though. (I own all of Jacques Villeneuve's oeuvre, but that's because I'm a racing geek, not because it's good. Hilarious? Yes.)