I meant to post earlier, but I forgot to take pictures of my current projects when I took my recent acquisition pictures, and the weather didn't cooperate until today. (The window in the computer room is blocked with stuff since we moved the treadmill in, so my photos will be done outside. If the neighbors didn't already think I was strange, this would do it.)

In the sidebar order, first up is Sarcelle.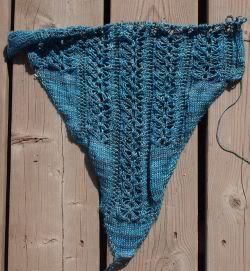 This is the Seasilk I bought in October (my guess is that the color is Nova Scotia, but since they don't label stuff, I could be wrong). I tried to create my own design, but it just wasn't working. Blogsurfing one night turned up this pattern (again - I'd seen it before and thought "Pretty"), and it tempted me. It's working well - complex enough to keep me interested, simple enough to do at sit and knit (it's my yarn store knitting, since I try to use yarn I've bought there) and I think it will end up being gorgeous. I'm doing fewer repeats, since the Seasilk is heavier than the yarn used in the pattern, and am assiduously weighing after each stage, so I can try to calculate where I'll need to stop the straight section. Progress is going to slow down a bit, since it will be solely yarn store knitting at this point (I had been finishing sections at home so I could weigh the yarn.)
Next, Dauphin: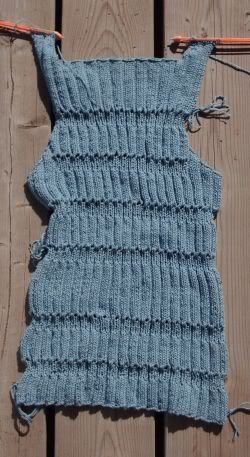 This is from Phildar Ete 2004, a simple
short-sleeved summer sweater
(why she calls the color Smurf blue is beyond me, unless North America got darker Smurfs). This should be a quick knit, since I started last Saturday and have finished the back in a week and started the front. I thought about knitting the body in the round, but the stitch pattern might have been distorted with the spiral effect. I don't love seaming (witness the poor abandoned Bias Fair Isle!), but I'll deal.
Last, and sort of least, the Chinese Leftover Socks: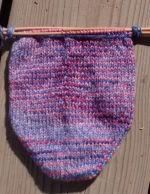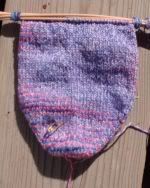 This is the two sides of a plain-vanilla toe-up knit from Tofutsies in "One Foot in Front of the Other. I'm not terribly fond of knitting with this yarn - it's loosely plied, and my technique tends to lead to ply blob creation. Couple that with the pooling, and it's not something I would buy again. I do like the fabric it makes (although I wouldn't mind knitting it tighter if bamboo needles came below 2mm.)
As for recent acquisitions, let's start with books: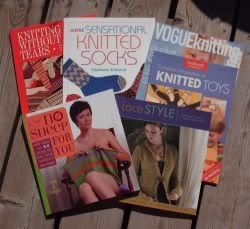 The Vogue Knitting was bought so I could
make fun of
examine the onesie pattern by Annie Modesitt, since there weren't any pictures on the web that I could find. Now I know why. That said, the other baby patterns are very cute, and it was worth buying for those. "Knitting Without Tears" and "Knitted Toys" were bought at a book sale for a pittance - I don't think I would have paid retail for "KWT" because I don't find it as mindblowing as others, but that's me. "More Sensational Knitted Socks" and "Lace Style" are from my LYS, and "No Sheep For You" is from the local big-box book store. That I needed to buy because I bought this on eBay: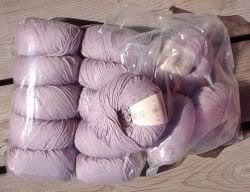 Fourteen balls of Rowan Calmer in Chiffon. If you (a) "know" me, either IRL or virtually and (b) have seen Morrigan, you'd know that that sweater was SCREAMING my name. The Chiffon color (lavender) was chosen mostly because that and Laurel were available at a steep discount from
Janette's Rare Yarns
, and I liked the Chiffon better than the slightly odd green that is Laurel (at least in most of the pictures I found on the web.) So, after I finish Dauphin, I will copy out the relevant charts and get cracking on Morrigan.
I've already done a little practice: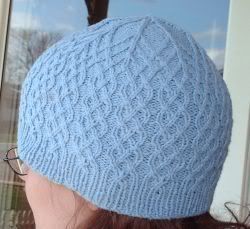 <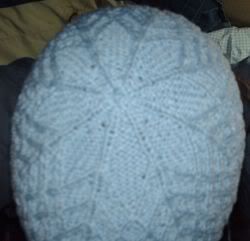 That's Shedir in Tinkerbell. I started it in a fit of reading non-comprehension. Teri at
Stitch-n-Snitch
was my Bloomin' Feet recipient, and her father was diagnosed with cancer. Moron that I can be, I read it as her mother, and started the Shedir pretty much immediately. Tinkerbell is not a terribly manly color. So, I finished Shedir, and made an attempt at a different hat in a more masculine/less feminine color: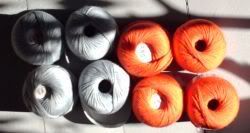 (The grey on the left - the orange is just because I have a strange fondness for neon orange, and it was on sale.) It didn't work, so I tossed the idea, since Teri made several lovely hats for her dad. I couldn't post pictures of Shedir until now, since it would have been a total giveaway as to the identity of who I was knitting for.
That's enough rambling, don't you think?