This has not been a stellar year so far for blogging. I blame it on Saturn's retrograde period. (As good as an excuse as any.)

This post will be finished objects. I promise to follow with current knitting and recent acquisitions in the very near future. (Oy, the acquisitions. Must. Stop. Shopping.)

First up, Day Two of Round Three of Sock Madness: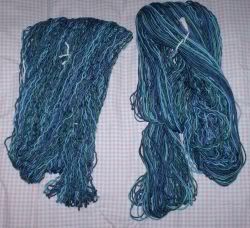 I was definitely out by 1 pm Thursday, and I was probably out earlier than that, but I wasn't sure who my opponent was on Flickr. I was OK with it, because I really didn't like those socks. The pattern was too wide for my feet, and the gauge given was far too loose for the Socks that Rock. I'm not a fan of cuffed socks - I find them too bulky. I might have been happier had I used the STR and the specified needles rather than the specified gauge (which goes against everything I've been taught about gauge), but I don't think I would have been happy. The yarn will wait for another pattern. Other lessons I've learned from Sock Madness is that (a) I'm a control freak (I kept thinking, "But why? I would do it [this way]." and (b) I like a VERY tightly knit sock. That said, I loved the fourth round pattern, and will be knitting it at some point in the future.
Now, some pretty pictures of the Bloomin' Feet socks: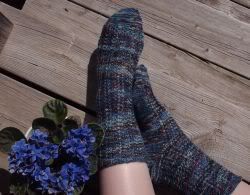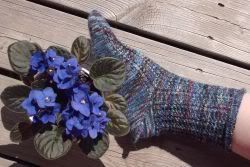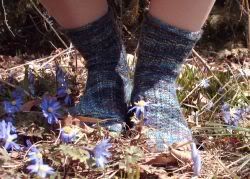 Look - spring blossoms! (Especially incredible considering we had snow two days before that picture was taken.) My package was mailed off today, and should get there next week. I hope the recipient likes it!
Random family knitting. The now seasonally-inappropriate (knock on wood) Esther Williams Hat: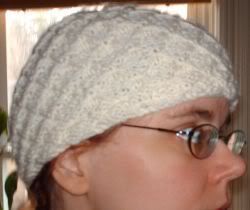 The pattern called for crochet trim, but I seem to have a very short head, and the trim would impede my vision. I have two fresh balls of Mission Falls in Raspberry to knit another one for my mother, who has a hard time finding hats that cover her forehead as she likes.
I'm back to knitting socks for Mom, since she's been neglected this year. At the end of March, my LYS finally received the long-anticipated shipment of Koigu (it was due in originally "end of October, early November). Two skeins had to come home with me: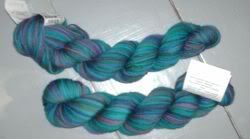 Since I pilfered the STR that I had intended to use for Pomatomus socks for Mom, and in hopes that the Koigu would not stripe like the Lorna's Laces I used for
mine
, I wound up the Koigu and knit away: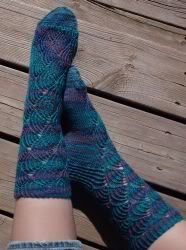 Oh well. They not only striped, the stripe reversed direction on the foot. They're still cute, though.