Last night, I signed up for Emily's Wee Tiny Sock Swap (scroll down for details). Knowing that I have Sock Madness starting on Saturday, I decided to be proactive. An hour and a half later (first episode of season 2 of Project Catwalk and the first half hour of the first episode of season 2 of Life on Mars, to be precise), I had this: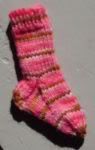 My Wee Tiny Sock! I used my leftover SweetGeorgia Handpainted in Kissed knit on my incredibly bent bamboo 0s (the metal ones are in my Bloomin' Feet socks at the moment). The only change I made to the pattern was to graft the toe shut, because I'm a showoff like that. So, I'll get my match this weekend, and mail it off next Friday. I feel so accomplished.
As an aside - Project Catwalk is the Brit version of Project Runway. This season is hosted by Kelly Osborne, who isn't nearly as good as Elizabeth Hurley was in the first season. But Ben Di Lisi (in the Tim Gunn role) and Julien Macdonald (in the Michael Kors role) are back, so all is well in my world.