I was knocked out by a particularly virulent something-or-other. I spent the better part of a week in bed, half-watching wedding shows while attempting to hack up a lung. I didn't even leave the house for a week and a half. I am back to relatively human form.

No knitting occurred while I was ill. (I also didn't sleep much or eat much.) However, I have started my Bloomin' Feet Socks: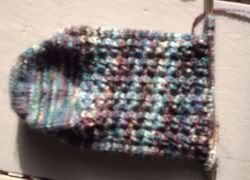 This is the third attempt at these socks. The first time, I just grabbed 2.5mm dpns and cast on 64 stitches and started a pretty leaf pattern out of BWII. The socks were a good quarter inch too big on my feet, and my feet are wider than the recipient. Rip. I knit a tiny swatch on 2mms, letting me know I get 10 spi on those needles. Hmm. I pull out Sensational Knitted Socks, but nothing sends me. I pull out my binder o'patterns, volume 2 and poke through. I pull out my
Badcaul
pattern and start in, back on the 2.5mms - it's fewer stitches! It will be fine! The cables ended up totally lost. Rip again. Pull out
Nautilus
and cast on on 2 mm needles, rejiggering for the tighter gauge. Finally! Success.
I've also got some more sock patterns coming. A friend went to Stitches West and picked up a couple for me:
Thelonious
and
Twisted Flower
socks by the amazing Cookie A. Add to that the upcoming Sock Madness, and it's just all socks all the time around here. I foresee a summer of hats.