1 - I have purchased yarn for Bloomin' Feet. It is winging its way to me - Lisa Souza Sock!Merino. There's a skein of Shade Garden for my pal, a skein of Violet's Pink Ribbon for me and a skein of Mars Quake for Mom. Looking locally turned up nothing I thought my pal would like.

2 - That's not to say my local shopping was unsuccessful. I did pick up a skein of Tofutsies in "One Foot In Front of the Other" for Mom: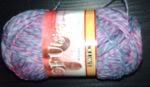 I'd be happier if they'd make some in solid colors, which I prefer to self-striping. (Yet hand-painted makes me happy - something about the randomness.)
3 - I finally finished the Broadripples for me: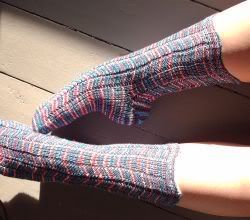 The second picture is more accurate colorwise. I say finally because I kept breaking the casein needles I was using, and broke the second needle (which left me with too few to work with) on a Friday, and I waited until knitting group on Thursday to replace them with nice sturdy Aeros. (Don't mention Magic Loop or 2 circulars. I've done both and they drive me nuts. They work for some, but I'm a DPN girl.)
4- I started another pair of socks, of course. Simply Lovely Lace socks by Karen Baumer, from last spring's Interweave Knits: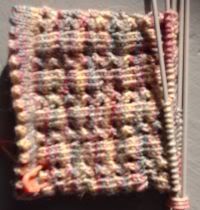 These are made out of the same Koigu as the Spring Leaves socks I knit last year. I'm currently decreasing out the gusset stitches.
I need to start working on some non-sock projects. I'm thinking that the
Phildar sweater
I bought yarn for off eBay would be a good choice. I am using my Sea Silk for a stole, but that will not be seen as I'm considering submitting it for publication. (That and I cast on way too many stitches, and need to restart it.) It does make a good knitting group project, leaving the Phildar sweater for alternate home knitting.
Edited to answer Helen's question: Bias is still lying around my house in pieces. My middle name would be Procrastination if I ever got around to changing it!