I've been spending my time knitting, not writing, clearly. Still no pictures of the Slayer socks (but they did accompany Mom to the sleep clinic.) So, here are the Sleepy Toasty Toes socks: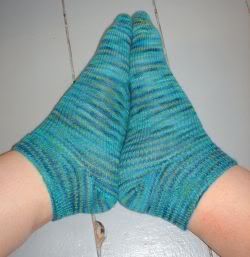 Just a cute little pair of anklets, whisper light and toasty warm. And currently covered in flannel-sheet pills. I was really concerned about how much yarn I had, since my little digital scale told me I had 50 grams or so. The remaining ball weighs about 27 grams, so I could knit another pair in the future. Thank you very much for the yarn, Rachel!
Then, I knit up the
Whiskers and Paw Prints socks
by Theresa Walunas. When you have kitty-cat colored yarn (Koigu KPPPM P313), knit kitty-cat socks! (Clicking on the photo will take you to a larger version, which better shows the detail.)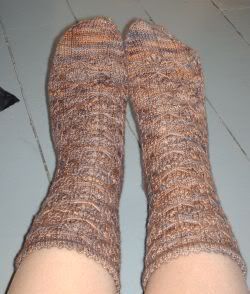 These were an easy knit for me, and would be an excellent introduction to lace. These are currently my mother's socks (with a possibility of defaulting to me if there's any laundry shrinkage.) When I managed to find more kitty-cat colored yarn, I will knit another pair for whoever doesn't have ownership of these. (I also bought the Here There be Dragons sock pattern.)
I also finished up the knitting tote and knit a little bag to hold wallet/cell phone/lip gloss/assorted other things that were always getting lost in my knitting bag (note use of baseboard for approximate scale):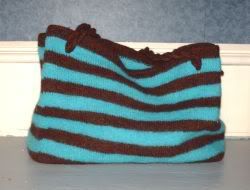 The tote was based on the Southwestern Style Bag in Paton's "Fabulous Felting" booklet - I just ignored all the beads/bobbles/color changes and knit 10 round stripes (the total number of rounds for the sides was 110, which worked out perfectly.) The base and I-cords for the straps were done in the Chestnut Brown. The little bag was knit from the Sophie pattern from Magknits, but modified to be a buttonhole bag. I cast of 21 stitches on the long sides on row 46, and cast them back on on row 47, and then bound off all stitches when the pattern directed me to bind off most of them. The Classic Wool felted easily, although I think there is probably room for it to shrink some more.
As for new projects, I've wound my Seasilk, but am missing the pattern that came with it (which I wanted for a rough starting stitch count). I'm knitting a pair of Broadripples with the Fourth of July Esprit Print I bought from Elann eons ago (I'm slightly disappointed, because the red on the ball mysteriously becomes hot pink as soon as it leaves the ball - so much for my Canadiens-colored socks!) and the Desperation socks progress slowly, because I want to leave them for knitting group knitting.
In addition, I'm looking for the right yarn for my Bloomin' Feet socks. I've spotted several online options, but am sort of hoping to find something locally. Mostly because ordering will end up being "One for pal, two for me, one for mom - good grief, look at that total!" Couple that with my
recent perfume find/addiction
, and it does add up. Especially when you order
sweater kits in blue
just because. (I ordered it from my LYS, but this was the first link I found that gave the alternate colors.)