Band practice starts up again next week. It will be interesting to see how many people come back. I will be spending my last free night watching movies - Lord of War and Twist.

On to knitting related stuff!

Toasty Toes: The yarn is here (see last post), and I think I know what pattern I'm going to use, which is one of my own creation. (I'm one of these people who waits for the yarn to tell me what it wants to be.) I need to swatch up the design ideas to see if they will work, what kind of gauge I get, and all that jazz.

Other knitting: The Nautilus socks are progressing nicely. I'm on the leg of sock two, so they should be done in the next few days: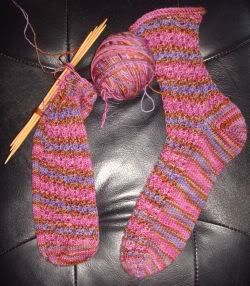 The striping didn't match up, so the socks are more fraternal than identical twins, but that's fine.
I've also been working on a Kitty Pi bed for a friend (I knit cat bed, she sends sock yarn I can't buy easily.)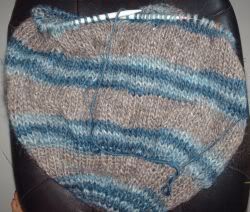 Of course, I forgot how much yarn this takes, and ran out. I'll pick up another ball of the multi-blue and finish it at knitting circle on Thursday. Then, I'll felt it up and it will look more like this: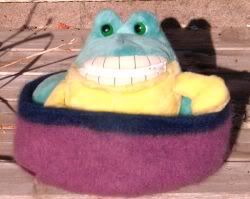 (Frog not included.) This is one I knit up a couple of years ago and sent off to a charity drive - I knit two and sent one in the name of Ceci, who was my secret pal.