That was yesterday's temperature with the humidity level factored it. You are just sticky and gross without air conditioning. The only way I could get to sleep was to drench my pajama pants with water - it cooled me off enough. (I frequently resort to sleeping on a wet towel, but that required getting up and wetting a towel. I used a spray bottle to soak the pajamas, so I didn't have to get up.)

A few finished objects: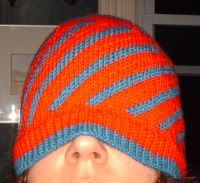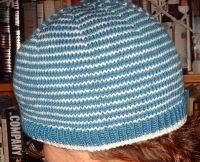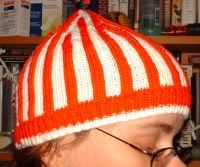 Three stripey chemo caps. The vertical and diagonal striped caps were knit starting with a tubular cast-on and following the provided pattern. The stripes were done with a fair-isle stranding technique. The horizontal striped cap was knit from the top down, starting with Emily Ocker's cast-on and ending with a Kitchener bind off. I'll submit them tomorrow. I thought about using up the last ball of red to knit a plain one, but I really don't feel like another damned cap right now. (I've also finished the first Nautilus sock, but the title of the post tells you why I haven't started #2.)
Yesterday, my
sweetgeorgia yarns
arrived. Here's the Superwash Sock in Marina that will become my Toasty Toes socks (scrolling over the following pictures will give you close-ups):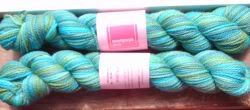 This is the Superwash Sock in Slayer that will be Mom's Christmas socks (the close-up is more color accurate):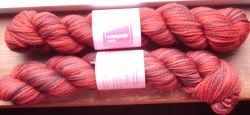 Finally, the extra-yummy Handpainted Sock in Kissed for me!: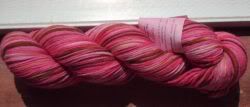 Why Handpainted for me and Superwash for the others? I know my mom won't handwash socks (I wear socks less, and can deal with the occasional need to work up a sink full of suds). I also figured that easy-care was the better choice for my Toasty Toes pal - better safe than shrunken Barbie socks!