Time flies.

Toasty Toes: The sock is finally progressing. The picture I posted last week? Well, I ripped that out. I started doing the pattern as written (a photo of the Keyboard Biologist's Chinese Lace Scarf can be seen here), but I didn't like it in the sock. The ladders framing the k3tog/s1 k2tog psso column were too open, and that half of the stitch pattern was dominating the sock. So out that came. I recalculated the numbers using only the center pattern and purl stitches to separate and started over. The result?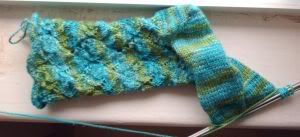 Much better, as evidenced that I'm nearing the toe. Yay me!
Other knitting? Not too much. I did a little work on Bias Fair Isle: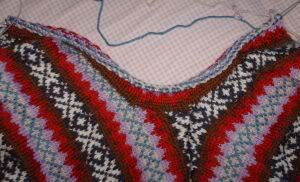 That's just about half the neck done (although I need to rip out the last row, because the stitch count isn't working properly and I need to figure out where it went wrong.) It went with me to sit and knit, because we're supposed to use yarns bought at the store during it. This frustrates me no end, because they don't sell what I want to buy. I need to block the swatch for Rosita to see if I can get gauge (currently I seem to be short on stitches and long on rows. Grr.) It's not a great choice, since lace and talking can be a recipe for disaster, but it's the best I can do. I've got lots of interesting stuff on the horizon, but the yarn has come from alternative sources.
I'm cheesed off at Canada Post, since last week's movie shipment has yet to arrive after 5 days. I'm guessing that this is my biannual "Oops We Lost Them Again" shipment. Sigh. You'd think my usual choices would be enough to get a sign in the post office saying "DO NOT STEAL THIS PERSON'S MOVIES. THEY'RE WEIRD AND FREQUENTLY SUBTITLED. STAY FAR AWAY." Guess not. At least something yummy arrived in the mail: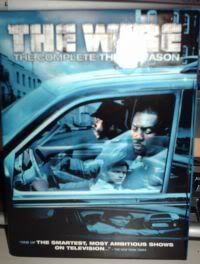 Mmmmmm...
Stringer Bell.
Add to that the fact that "Prison Break" starts up tonight (Mmmmm...Wentworth Miller), and I'll be back to my TV junkie ways in no time.