A few finished projects to show off: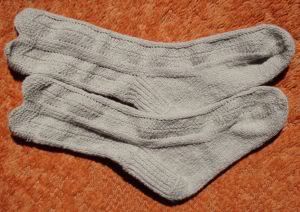 SageRipples for Mom. Pretty much exactly to pattern directions. Much nicer color than in the picture. (Our ugly carpet isn't the greatest backdrop, but that's where the sunshine was.)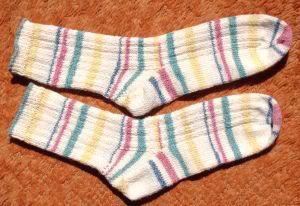 Monacos for me. My usual figure-8/Turkish cast-on, with a bottom up heel flap as in Schurch's sock book (I think it's
Sensational Knitted Socks
, but don't feel like looking) and a Kitchener bind off. I don't love the heel flap, although I like that I accidentally did an eye of partridge heel stitch instead of the standard slip-stitch - I think it's denser. I do really like the Kitchener bind off (1x1 rib, slip all knit stitches to one needle, all purl stitches to another, and Kitchener/graft all stitches) because it makes a very stretchy edge, and gives me extra practice.
Catnip toy for the cats. Knit a square-ish stockinette thing, binding off so the tails are kittycorner (this doesn't have to be precise), fold in half crosswise with purl side facing and seam both sides, seam up one other side, stuff with catnip and stuffing (far away from cat) and seam last side. Happy cat results.
So, now that the socks are done, I've been
Wittering
away my time: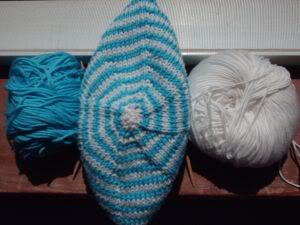 That's the aqua yarn harvested from my Cleo and the white yarn I bought to supplement in my thoughts of doing the Picot Camisole from the Spring Interweave. I decided that the gauge was too tight to be comfortable fun knitting, and I wanted the hat because I've been stuck playing outdoor band gigs in my Dad's Montreal Jazz Festival bucket hat. Ugly, but a vast improvement on the town band hats. Imagine a trucker hat with fabric replacing the mesh. Now make it uglier. As for Wittering, I'm up to the twisted stockinette row section, and will soon be on the brim. I picked up more yarn for one for my mother (maybe, if she likes mine, but the yarn was on sale):
I also bought the latest Knitscene, and have added Molly Ringwald to the very long list of projects I'd like to knit eventually.
Otherwise, not much to report. Finished this weekend's movies ("Paycheck" - needed more Eckhart, less Affleck; "Emma" - quit halfway through because I couldn't take any more Gwhiney Paltrow; "The Core" - crappy movie, but Aaron Eckhart was hot, so it wasn't a waste of time!) and will delve into the family collection for the rest of the weekend.