Yes, after weeks of languishing, I finally sewed the sleeves onto Maggie: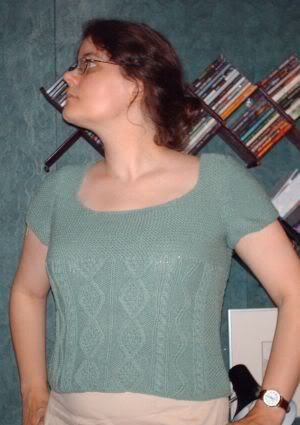 My sweater is semi-significantly altered - the pattern was pieces seamed into a cardigan, and I converted it to an in-the-round pullover, and the sleeves are about 8 rows longer than the originals. In addition, I knit a size smaller than Rowan indicated that I should - and I think they put the model in a size larger than she should have been, because her sweater's about to fall off or pop a boob, and mine isn't. If I were to go back, I would deepen the neckline fairly significantly. I liked the depth of the original, and it would also drop the empire "seam" (switch from cables to garter) to below my boobs instead of straight across the center. Mind you, it's not
that
important, since I could have gone back and done it if it really bothered me.
Wittering is nearly complete: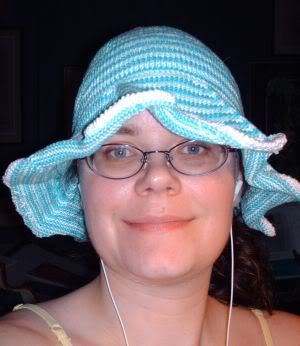 All but one end is woven (the last one is saved to close up the hem casing). I looked on Thursday for the cord I want to run through the brim, but the only appropriate cord at Canadian Tire was attached to an umbrella clothes dryer. That would be a bit pricey to finish a hat. I also need to pick up some starch to crispen the brim.
So, now that those are done, it was time to pick up some new projects. There's the chemo cap that kicked my butt, which will be seen in a later post. (The original idea didn't work, and it took about four different tries to get something that worked.) There are more of those to knit, as well, since I envision a collection of three. Of course, there's a new pair of socks on the needles: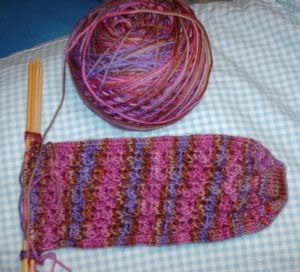 Anna Bell's Nautilus pattern, knit in Cobalt Bloom "Socks that Rock" (lightweight, I believe, since I bought it from their site when there was only one weight option.) I need to knit the short-row heel tonight or tomorrow so they're ready to go to band on Tuesday, in case the idiot deigns to show up. Which he didn't for the two practices before our last concert. He did show up at the concert, not having seen most of the music in a long time, if at all. Sigh.
In other news, I had a pendant that I used to wear all the time. I dearly loved this little $10 Philadelphia Science Museum impulse buy (it was tied to astrological sign, and the only one they had was Aries - it was fate). A longish while ago, the stone dropped from its setting. After about ten years, the adhesive had finally given up the ghost. It got stored for safekeeping, and I kept thinking that it needed to be fixed, but that's as far as it got. I have a friend from band who is
a jeweler
. Tuesday, I took my pendant with me to see if he had some ideas on fixing it. I also took another stone that I wanted set similarly. He agreed to do the work, and off they went. I figured I'd see them again in a few weeks, and wasn't in a rush. I got them back on Thursday. The original red-orange agate: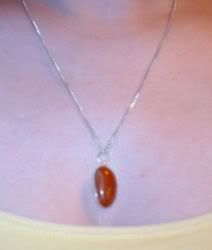 and the new bloodstone (one of March's birthstones):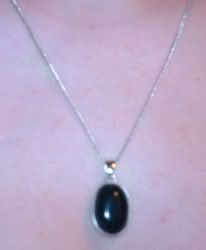 Yay for new jewelry!