The bottom panels of Bias Fair Isle are blocked and ready to proceed:

Now, there's a issue that's bothering me:
That's the two panels roughly pinned together. Not the most attractive of seams. I'm hoping a couple of factors come into play later - a) I can yank them straighter once the upper bodices are done, using them as guidelines, and b) the sweater is going to be about 4 inches larger than intended, in spite of the fact that I got gauge on the bloody thing. A sweater that is roughly 12" larger than my bust is going to have a lot of side material, and maybe that seam will all end up on the sides anyway. Only time will tell. No other progress has occurred. I took it with me on Thursday and started to pick up stitches, but didn't like how it was looking, so switched to Pomatomus's gusset. Much easier (in spite of the fact that I screwed up the pattern and had to rip a bunch to correct it.)
Speaking of Pomatomus, they're almost done - just one more pattern repeat and the toe to do. To answer Stacey's question, the yarn is Lorna's Laces Shepherd Sock in Black Purl. A very nice yarn, which I wish was available around here (along with a laundry list of other yarns.)
I did my bit of spending at the LYS on Thursday too. No yarn came home, just other stuff: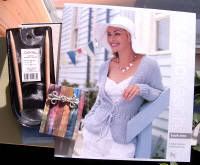 That's an 8mm bamboo circular (because it was the only 8mm circular they had) which I need for a project for a friend; a pewter clasp by Fleece Artist and RYC Classic Beach. I bought the book because my mother likes the cover sweater and I like
many of the sweaters
, especially Maggie and Sea Breeze. (
Not
Sea Grass - that sucker is fugly.) I may make Maggie this summer, if I decided on a suitable substitute. I may try Mission Falls Cotton or Estelle 100% silk. I've got some of the silk in stash, so that can be swatched up - eventually. The clasp went to
finish
finish an old project:
The Sitcom Chic I finished knitting in October of
2004
! I think I wore it once and it's been sitting unloved in the depths of my closet ever since. I've been thinking about buying a clasp for a while, but never thought of it when I was buying other stuff. This time I did, giving me a lovely new sweater without any work.
It got taken out for the first time when I went to see "Brokeback Mountain" on Thursday. An excellent movie, well worth seeing. However, there are two men having sex in the movie. Why do I mention that? Well, prior to the show, the manager gave his spiel about "Firewall" starting on Friday, and "Nanny McPhee" and "Brokeback" being held over. He asked if we all knew it wasn't a Western, as he'd had several people walk out at the half-hour mark. No gasps of shock at it not being a Western, so on with the show. A half-hour in, the sex starts and people clatter while exiting the theater. WTF? Maybe I'm just way too pop-culture literate (probably true), but how do you not know that that's coming? Oh well, at least it didn't take long for the people to leave, restoring peace. (Even the baby was better-mannered - just a few peeps near the end, and Mom was right on top of it. I was sort of glad the baby was there - it meant I wasn't the youngest person in the theater. It was like old folks night at the movies.)