The winter blahs continue here at casa Habsgirl. The VCR next to me is busy recording "Bleak House" on Seattle's public broadcasting station. Why? Well, (a) I forgot to shut the stupid machine off after setting it up to tape on Detroit's public broadcasting station and (b) Watertown NY PBS, which is the basic cable choice of PBS, isn't airing BH for another two weeks, and I don't want to wait that long. I really love the channel selection on digital cable, but I hate pretty much everything else about it. I hate that you can't watch one channel while taping another. I hate that if you want to watch a tape on another machine, you have to jack the volume up to maximum. Grrr. (I also hate that the VCR in the computer room has to be shut off to timer record. My VCR doesn't require that, and I've gotten spoiled.)

The blahs have carried over into knitting. I've done a little work on Mom's sweater, but it's a large ecru/vanilla tube. The sweater is still boring me, however, and I think I've figured out why. This is the fourth time I've knit something along these lines in the last year - it's the exact same pattern as the Denim pullover (2 sizes up), and essentially the same as both Ribby Shells. So, I picked the yarn and got cracking on the second of the Olive Leaf socks. Still repetitive - it's the same lace pattern as Birch, it just doesn't decrease the number of leaves. However, it's coming along nicely - I only have one more leaf pattern repeat, ribbing and afterthought heel left to go. Due to some fucking glitch in the system, all I have is the unshrunk version of the picture. Photobucket keeps getting the original picture instead of the nice cropped picture that I keep trying to upload. It's too late (time-wise) for me to futz with it, so go look at the big picture. It gives a lovely view of the pattern. (And the purple yarn that peeks out on either side is the waste yarn holding the stitches in anticipation of the heel. Why that yarn? It was floating around my room from some earlier experimentation.)

I've also been doing some swatching. Some of which won't be shown here for a while - I have a pattern idea that I plan to submit somewhere, which I need to go back to. What I can show is the following: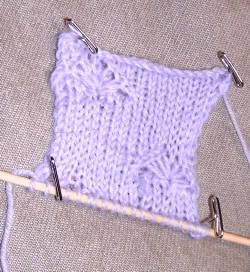 That's the stitch pattern from Maple Leaf Socks out of the new
MenKnit.net
ezine. I was thinking it might make nice socks for Mom. (Why are almost all my socks for my mother? She wears them; I don't unless I absolutely have to.) After seeing
Jo's
comments about the pattern, I thought I'd give it a run in a solid color. The upper leaf was done with the incorrect instructions (don't ask) and the bottom leaf was done correctly. It isn't doing much for me. It shows up nicely, but I don't like what it does to the fabric. Combine that with the fact that I prefer a tighter gauge (7spi is a little loose for this yarn IMO), means that the pattern will not get knit up in the near future.
Nothing ventured, nothing gained.
Next up on the needles was the HipKnits silk that I received from Zib in exchange for socks. I swear those socks are working their way through the postal system.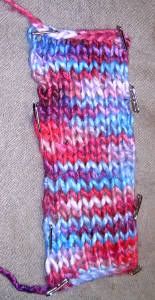 I just cast on 10 stitches and knit until I ran out of yarn. Ran out of yarn? Yep, there were technical difficulties with one of the skeins, leaving me with a bunch of very short lengths. Kerrie was very quick to rectify the problem, and more yarn will be winging its way to me. It will most likely marinate in the stash until the summer. Depending on the yardage I end up with, I may knit
Ella
or I may knit something else entirely.
The knitting universe seems to be buzzing over the Knitting Olympics. I'm NOT doing it. Why? Well, I would have 3 options on "events":
1)
Bias Fair Isle.
I need to start on this soon if I hope to wear it this year - stranded aran-weight yarn is thick and warm. However, I don't think I'd have a reasonable chance of finishing it in 16 days, and I think it would be undue pressure.
2) My own design. I have the idea, and I think I could knit it up and write it out in the 16 day period. However, it would take that time away from Bias.
3) Multiple pairs of socks. It usually takes me around 2 weeks to knit a pair of socks, and that's at a fairly leisurely pace. I would have to commit to knitting 2 or 3 pairs, and I think I'd get frustrated not being able to switch around. Plus, again, I need to work on Bias.
After much
navel-gazing
contemplation, I'll just sit it out and work at my own pace.
And, just to peeve Zib: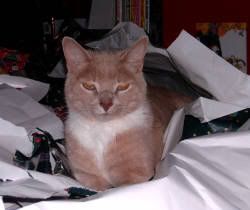 Carolina lying among the ruins of Christmas.