It's a heavy congestion day here. Combine that with watching "Cheaters" (it was on and I just didn't feel like trying to find something else to watch) and brain cells are dying everywhere.

Zib expresses surprise that I have a cat. I'm assuming that's sarcasm, since little miss Carolina has appeared in the blog before. I don't waste spend my time photographing her unless I'm bored or she's particularly cute. She's also residing on my shit list. Sunday night/Monday morning at 5:15 am, she wanders to my bedside mewling. I'm still awake (thankfully) and look over. Someone has a mouthful of something brown. She is rapidly shooed out of my room and the door is shut and my bathrobe is shoved into the gap between the door and the floor. (Yes, I'm glad she's proud of her prey. No, I have absolutely no desire to see. Dad's great at cleaning that up.) Since no one could find any results of the hunt, it must have been merely dented. Monday night, the door was shut tight and she had to let out a full meow before she was granted admittance. I have no desire to wake up with a tiny corpse.

In far more pleasant news, I've finished the Olive Leaf socks for my mother. Here's a slightly bizarre photo of them on. (I'm not nearly flexible enough to get a good shot of my own foot.)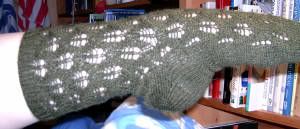 I'm not fond of the afterthought heel. I used it because when I tried to do a short-row heel on the first sock, I couldn't get it to work. So I thought I'd (a) try a different method and (b) put off the aggravation to a later date. Here's a close-up of the lace pattern stretched out: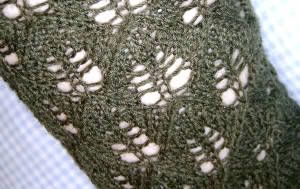 I used the charts from
Southern Cross Knitting
, but switched it to toe-up so the leaves pointed upwards. Why? Because I wanted to.
Once I finished those off, I should have gone back to working on Mom's sweater. But I didn't: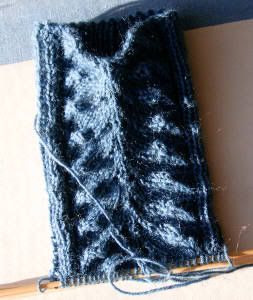 I cast on the Cascade
Walking Away socks
using the pattern I won from
Amanda
. I'm using the North Sea Blue Essential 4-ply that I bought from Elann last January. The Lorna's Laces Black Purl that was the other part of the prize is tentatively scheduled to become a pair of
Pomatomus
.
I'm tired, so I'll shut up now.