First up, pretty new yarn: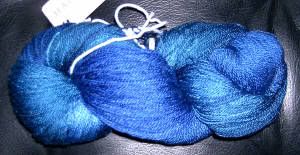 One skein of Handmaiden Lace Silk. I can't get a great photo of it, because I can't get the greens to show - It's a gorgeous combo of deep blues and greens. Six hundred yards will become a scarf (I think) for either me, my mother or my brother's girlfriend. Time will tell. I picked this up at Wool'n'Things anniversary sale - 20% off. I think of it as an early reward for freezing my fingers and toes off on parade today. (The flute player who was going to do the parade had a child arriving home from college today. She's been sitting next to Chris, so I told her I'd do the parade instead.)
As previously mentioned, I'm sort of in between projects. Not quite ready to start Mom's sweater, I took the makings of Birch and Bias Fair Isle with me on Thursday. I briefly started Bias, but quit because I had too many balls to keep track of. I cast on for Birch, and started the knitting at home. Something got fucked up, and the last of the cast-on row is in the freezer, awaiting ripping. (Although, I must say the ripping wasn't horrible until I got to the cast on row, and I don't find a knitted cast on easy to rip in any yarn.) So last night, I spread the balls on my bed and continued swatching Bias: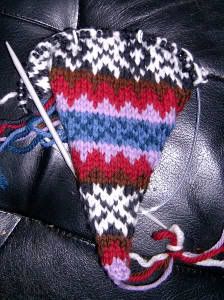 I'm pretty happy with most of the colors, except the blue and turquoise peerie row. I think both colors are too dark (a) relative to each other and (b) relative to the lavender surround. (Mind you, they're showing up better in the picture than they do IRL.) I think I'll sub in a light grey, probably with the blue, but maybe the teal/turquoise. Next time I'm in the store, I'll see which I like better. I also think my gauge is off, so I'll reswatch on larger needles and see what happens. I'm not sure what kind of growth I'll get with washing, and I bought enough for the large size, but I'm not positive the swatch/kerchief was included in the amounts. I was also hoping to carry the unused colors along, but that's not going to work, so there are going to be oodles of ends to weave along the way.