Yes! Melly's socks are done and packed up, ready to be gently placed into an envelope and mailed: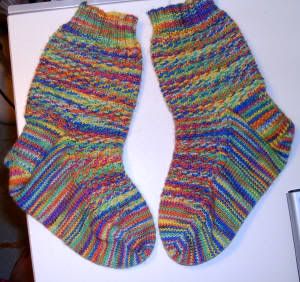 Progress also has been made on Dad's Christmas present: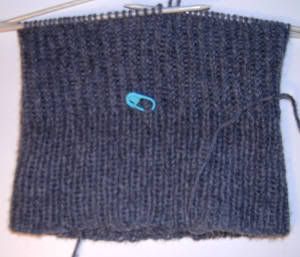 I went with the Marsan Watchcap, and I like it in this yarn (I loved the Chicknits Shaker Rib hat as a knit, but it didn't work in this yarn for me.) I'm just starting the decreases, so it should be done soon. The swatch for Mom's sweater is in the dryer, along with the Natural Ribby Shell, so those projects should move along quickly and soon.
Mind you, I want another project to take with me tomorrow. The sweater isn't right, because I need to do some more measurements of my Mom. I'm knitting the largest chest size of the sweater, but I think I'll need to knit shorter sleeves and body, since she's only 5'4". Maybe I'll take the Kidsilk Haze and cast on for Birch. Or not.
And a meme (I found the results intriguing.)
You Have a Choleric Temperament

You are a person of great enthusiasm - easily excited by many things.
Unsatisfied by the ordinary, you are reaching for an epic, extraordinary life.
You want the best. The best life. The best love. The best reputation.

You posses a sharp and keen intellect. Your mind is your primary weapon.
Strong willed, nothing can keep you down. Your energy can break down any wall.
You're an instantly passionate person - and this passion gives you an intoxicating power over others.

At your worst, you are a narcissist. Full of yourself and even proud of your faults.
Stubborn and opinionated, you know what you think is right. End of discussion.
A bit of a misanthrope, you often see others as weak, ignorant, and inferior.