Proving I'm not entirely about the knitting, I spent the last week finishing off some UFOs. Let's go from oldest to newest.

First up, Kimono. Yes, the Phildar sweater that I knit in the summer of 04 is completely sewn together. It had some rocky spots. First, it was huge amounts of mattress stitch, which isn't my favorite thing in the universe. So I sewed one wrist-to-neck seam, let it sit a few days, sewed the other wrist to neck seam. Then it sat some more, followed by the sewing of the first wrist to waist seam. Then, I tried it on as the designer intended:

(No, that ain't me.) Uh-oh. The front neck, which was minimal bind-offs (and should have been decreases, but it worked, so I didn't rip it out) was way too high, and was really bothersome. So it sat for a long time while I contemplated what to do (well, forgot about it for a while and then contemplated.) My first thought was "Why don't I rip out the front panels to the neck edge and re-knit them to match the V in the back? I thought about doing that at the time." Well, I pondered that for a while, and then it dawned on me that it would behoove me to try it on "backwards" to see if the V would be OK (ie, didn't leave me with exposed nipples.) So I finally did that, and the sweater fit much better backwards. The high neckline was just fine in the back, and the V didn't flash too much skin, so I did the second wrist-to-waist seam and the hem and voila: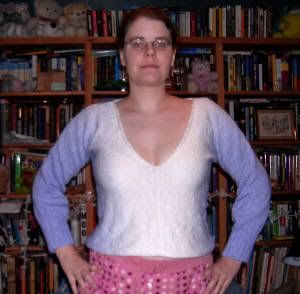 A year and a half later, I have a sweater. It's more of an "evening" sweater, but hey - sometimes a girl likes to serve the twins up on a platter.
Next, Sweet and Lowdown. Sweet got put into timeout this summer because (a) I was running short on yarn and needed to get off my ass and order more and (b) the last thing I wanted to think about, much less work with, in the summer heat was double-stranded aran weight wool knit tightly. I finally ordered the extra yarn and finished off the knitting. I assembled the chair and slid on the cover: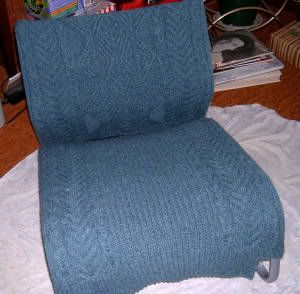 It's also cat-tested and cat-approved: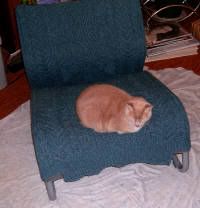 That picture shows that the chair isn't entirely finished - the flaps need to have zippers sewn on. Or perhaps snaps installed - much less work.
Next up, my first major lace project. The knitting was easy - the 2 hours spent crawling on the floor attempting to block it into a square shape (actually, it's a little bit more of a trapezoid, but it's close enough for me) wasn't so easy. I left it overnight to dry, pulled the pins and wires and got this: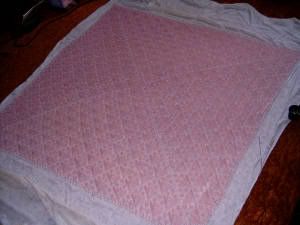 It's between 50 and 52 inches on varying sides, and very pretty. It's lying out right now airing out after the first venture out. The Legion was way too smoky to take a hand-knit too, but that's my fault - I should have known better. Here is a closeup of the corner, to allow you to see the pattern in greater detail: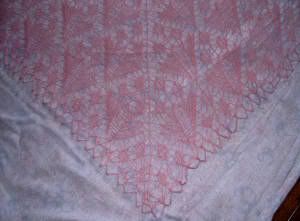 Last, but not least is the Damson T-Shrug. A nice quick knit (it only took a week, and I was working on finishing the other projects too), and very cosy. I could live without all the "Where's the rest of the sweater?" cracks...
(My head is cut off due to the combination of an icky facial expression and a rather nasty double-chin image. Not pretty. But the shrug is!)