A few random bits:

To answer Amanda's question from the previous entry's comments, the next few projects are littleish things. I have a mystery project from this summer that I'm trying to finish up in the next two weeks, socks to knit for Zib's daughter (as soon as the freaking internet quits eating our e-mail correspondence!), and a hat for Dad for Christmas (at his request), knit out of this: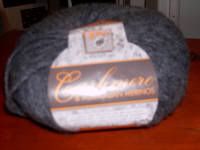 70% merino, 30% cashmere, 100% soft and squishy. I'm either knitting the
Marsan Watchcap
or ChicKnits'
Shaker Rib Hat
. Heck, I bought 2 balls, maybe I'll knit them both! Once those are well on their way, I need to start Mom's sweater. Of course, it starts with winding up 25 balls of yarn....
And to answer Monkee's question, the rest of the sweater is still lying unknit on the shelf in the store where I left it!
I bought pretty and totally impractical new shoes today: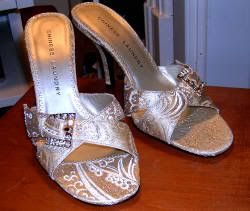 Being in two town bands is generally not a problem, until it comes to things like Remembrance Day. Band Director #2 was giving me the evil eye when I said I wasn't going to be at that band's performance. It's not like I was skipping out and holing up in bed with a hot man. I was simply playing with Band #1, which I have played with far longer than Band #2 has existed.
I liked my results for the following quiz:
Semicolon
You scored 30% Sociability and 82% Sophistication!
Congratulations! You are the semicolon! You are the highest expression
of punctuation; no one has more of a right to be proud. In the hands of
a master, you will purr, sneering at commas, dismissing periods as
beneath your contempt. You separate and connect at the same time, and
no one does it better. The novice will find you difficult to come to
terms with, but you need no one. You are secure in your elegance,
knowing that you, and only you, have the power to mark the skill or
incompetence of the craftsman.
You have no natural enemies; all fear you.
And never, NEVER let anyone tell you that you cannot appear in
dialogue!
How you compared to other people
your age and gender
:
You scored higher than
15%
on
Sociability
You scored higher than
93%
on
Sophistication
Link:
The Which Punctuation Mark Are You Test