Wednesday of last week, I wore shorts and a tank top. Friday, I wore Inishmore and jeans (went to a football game and by the end, was dying to to home it was so bloody cold.)

I continue to knit along. Spring Blossoms is nearing completion, I think. The Natural Ribby goes in fits and spurts. Plus, I've gotten yet more yarn recently.

First up: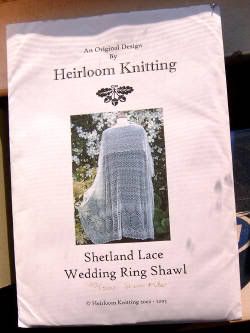 My Wedding Ring Shawl pattern arrived a week ago Monday (along with the yarn needed to complete Sweet and Lowdown - just serendipity, no planning involved.) Here's a picture of the yarn samples: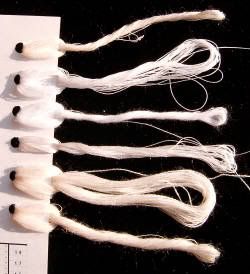 From top to bottom: viscose/merino used to knit the example; 100 Crochet Cotton; Gossamer Cotton; Gossamer Silk; Gossamer Merino; Shetland Cobweb. Now, to compare with your more standard yarns, here's a crappy picture: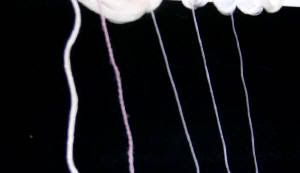 The first yarn is the worsted weight Pakucho cotton I'm using in the Ribby, the second is the Zephyr laceweight I'm using in Spring Blossoms and the next three are Gossamer Merino, Gossamer Silk and Gossamer Cotton. I have yet to knit up the samples, but I'm leaning towards the Gossamer Silk, although all the suggested yarns are very nice. Don't expect to see much more about this for a while - I'm way backed up on projects.
Which of course means it's time to start a new one!!! I offered to trade socks for yarn with Zib (I like small needles, she doesn't.) So I picked up some yarn: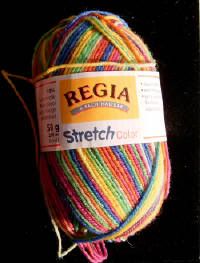 and knit up a swatch: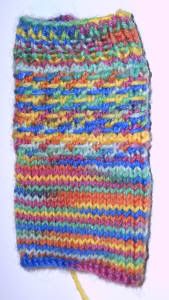 The center section is done with the stranding technique from
Crusoe
, which I really like with the yarn - breaks up the striping nicely. Now I just need to take the measurements and sketch out the necessary numbers. Then, on to knitting!
Add to that the minor miracle of this stuff finally showing up: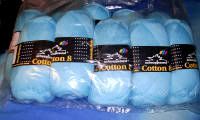 This is the yarn I ordered in April for
Rosita
. This will reside somewhere in my room until next spring/summer.