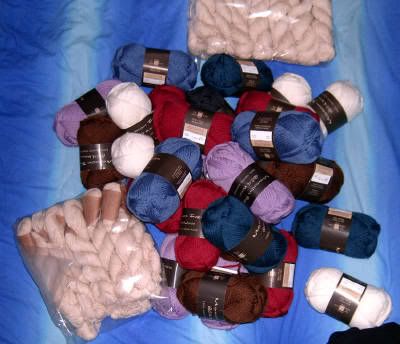 This is this week's yarn acquisitions, piled in a rather ungainly heap on my bed. The two plastic-wrapped bundles contain 25 skeins of vanilla Pakucho cotton to knit the denim pullover in a larger size for my mother. I should have generous leftovers, because I'll need to crop it (I shortened mine, and I'm way taller) plus I overestimated - always better to have too much than not enough. For color comparison, here's a skein of vanilla lying on the natural ribby shell: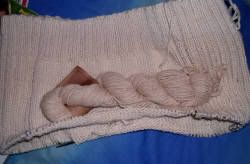 The rest of the yarn is the yarn for the Bias Fair Isle sweater from Loop-d-loop (I'm actually 4 balls short - the store had 5 balls of charcoal, all different dyelots, so I have to wait for them to come from the other store):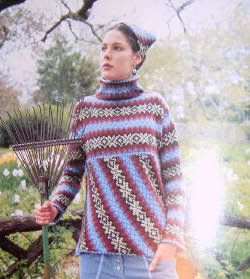 I'm sticking as close to the original as I can in Mission Falls - the blues aren't light enough to be exact. Here's the yarn lying neatly in a row: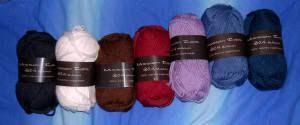 From left to right: charcoal (04); natural (01); earth (08); poppy (11); crocus (35); aster (36); teal (30). I am not going to start this until I finish off Sweet and Lowdown, which involves waiting for the extra yarn (should be here by next week) and actually knitting(!), assembling chair, blocking, and installing the yet-to-be-purchased zippers. (OK, I may start bias before the zippers are dealt with.)
Progress continues on the sock (I need to get mom to try it on. I'm not sure I'm happy with it), Spring Blossoms (which I will most likely add a few repeats to - I've got OOOOODLES of yarn left, and I've only got a couple repeats to go according to the pattern. It weighs 2 5/8 oz including the needles, and I bought about 8 oz of yarn. And as you can tell by the picture of the Ribby, it continues as well. It's mostly band practice and car knitting. Although it may get an outing this weekend - I NEED to see "Serenity" this weekend, and Dad said he had to go into work for 4-5 hours this weekend. I was planning on dragging my mother along (she wasn't a huge "Firefly" fan, but someone's gotta drive), but this would be a much better solution. I could go sit at Starbucks and knit until Dad is ready to return home. I might take Spring Blossoms ... hell, I'll end up taking both and making the decision then.
Internet knitters have been irking me lately. I posted a couple of times at the Knittyboard with the results of searches I ran. I
don't understand why people don't bother to search
get peeved by people who can't seem to be bothered to search. The laceforallseasons group (f/k/a/ summeroflace) is on its umpteenth discussion of "what are the best needles for lace?" (Answer - whichever ones you like best.) Actually, any discussion of the "best" item, be it yarn, needles, etc, bothers me because there isn't one answer. What works for one doesn't work for another. Take small-diameter circular knitting. I almost posted a really snarky answer at knittyboard a few weeks ago when someone said "Maybe you've advanced enough to use magic loop." Guess what? I'd say I'm an advanced knitter and I
ABHOR
Magic Loop. Drives me up a wall when I try it. Two circulars don't bother me quite as much, but I find I get nasty ladders. Give me a set of dpns any day of the week (preferably 5, but I can work with 4 if necessary.) Does that mean Magic Loop doesn't work for others? Hell, no. If it works for you, use it to your heart's delight. Just don't tell me that's a sign of advancing in knitting.
OK, maybe I'm just bitchy because another list is having a fucking flame war in which nobody but the participants have all the information, but the rest of the list is having to listen to the participants snipe at each other. There isn't a chance in hell of my getting involved in the war (I like my head where it is, thankyouverymuch), so I'm venting on other topics.