I have a bunch of not-quite-finished projects sitting in the sidebar. I have yarn for a whole bunch of other projects occupying a fair amount of real estate in my bedroom. So what do I do? I buy more yarn, for more projects!

First up, Thursday's purchase: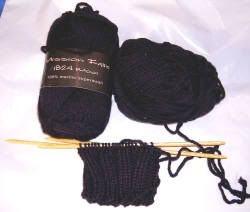 Eight balls (not all pictured, of course) of Mission Falls 1824 Wool in Damson. That tiny amount of ribbing is the very start of this: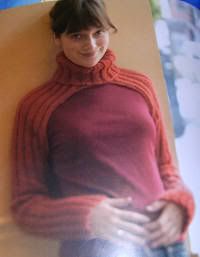 That's the Turtleneck Shrug by Teva Durham in
Scarf Style
. I figure this is a good chance to (a) knit something that could get a lot of use - I love my t-shirts, but winter is rapidly approaching, making it awfully cold to wear them on their own and (b) knit something in the soon-to-be-unavailable Mission Falls. I really love the damson color (a deep rich bluish-purple) - so much so that I swatched the cables of Eris in it: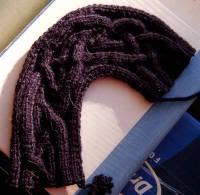 I seriously considered it, but it really is too dark to make the cables pop. So, Eris will be backburnered until I find the perfect yarn. (Like I said, it's not like I'm short of things to knit!)
OK, fine. T-Shrug will be a good mindless portable project - especially since I'm close to done on the Natural Ribby Shell - the following picture was taken on Friday, and I now only have the second half of the front and seaming/weaving left to do: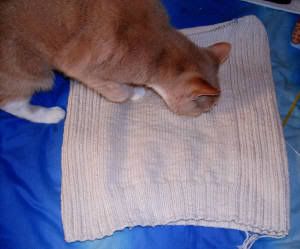 Carolina wandered into the picture and the batteries were too low to take a cat-free picture.
So, Friday, Mom and I head off to
Inspirations Needlecraft Show
. It's no Rhinebeck - it's mostly sewing, but it's the only time you can get Koigu in Ottawa, since no local shop sells it. However, I've got 4 balls of KPPPM waiting for a test run for a design I'm in the beginning stages of noodling with, and I couldn't think of a good reason to buy Kersti (note - the Koigu-selling booth was the last one I hit.) So, I bought blocking wires: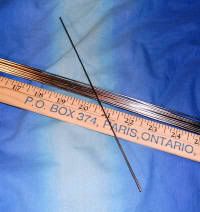 It's a set of 20 wires, 4 each of 5 lengths ranging from about 9 inches to 36 inches, a yardstick, instructions and a storage tube. And I bought this: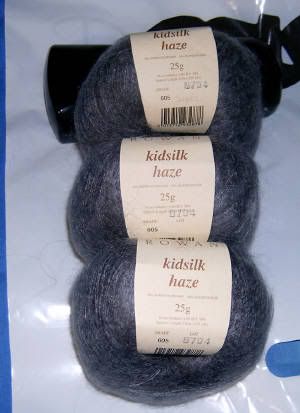 Three balls of Kidsilk Haze in Smoke. Which will eventually be Birch (or Kiri - I never know what I will feel like until I start.) I figure Kiri will hit the needles around Christmas.
So that should be it for a long while... except for the yarn I need to knit up a hat for Dad for Christmas....