Step right up, get your pictures here.

First up, Salt Peanuts, finished way back last year. I finally took a picture of it on: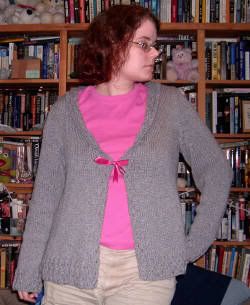 Note: it is even, but the pose makes it hang asymmetrically. It's a very comfortable sweater, although it is on the large size. I knit the 42.5" chest, and I don't think it's that small (not that I've bothered to measure it.) If I had knit the next size up, it would be falling off.
Progress pics:
Spring Blossoms, all crunched up: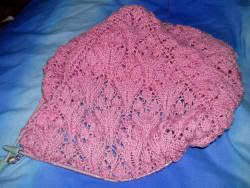 Natural Ribby Shell: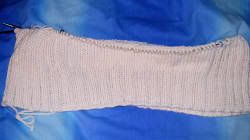 The current ball of yarn has mystery dark streaks - some form of dirt (I washed it out of a scrap of yarn.) I need to grab a fresh ball and hope only the one ball is stained.
Olive Leaf Socks: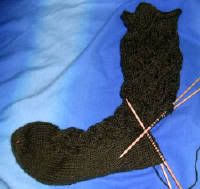 The afterthought heel is almost finished. I'm not sure I like the socks, though. The lace isn't particularly attractive. I'll finish the sock, have mom try it on and go from there.
Not much happening here. Still waiting the arrival of the Wedding Ring Shawl pattern with bated breath (should have sprung for air mail - but so many people get ground shipments quickly, I cheaped out.) Ordered more of the Pakucho cotton in Vanilla to make mom a sweater like the denim one. As in 25 skeins. Why? Mom need the largest sweater size. I did the yardage calculations, added 30% to cover shrinkage (always better to be paranoid about running short) and rounded it up to 25. Any leftovers will find a use. I really like the yarn - the natural is soft and cushy. And I actually bought a sweater at Old Navy (odd - I went in for warmer lounge pants but hated how they fit.) A very fine gauge grayed-out blue ribbed deep-V neck. At $25, I couldn't make it without losing my mind - all that ribbing in yarn finer than my laceweight
.