Much lethargy around here. The weather's been erratic - either so hot you think your brain is melting, or kinda cold. Umpteen million concerts (the hazard of multiple bands) with tiny to decent audiences. Not much knitting has taken place. Hush-hush is coming along, as evidenced by this ancient picture: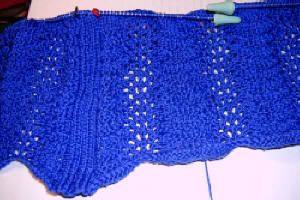 That's the bottom lace section. I am currently plugging away at the straight body part - I think I've got about 5 inches to go, and just attached ball #8. It's a slog (anything for one's body done on 2mm needles is automatically a slog), and one I've been avoiding when it's hot. How bad is it? Here's a comparison of (approximately) a week and a half of work on Hush-hush with an evening's work on Lotus (the entire back of the sweater: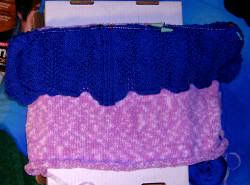 Lotus is done, but not without much struggle. I knit the back. I used the outside end for two balls, and the inside end for the third (which was the second ball knit.) It bugs me. I knit the front to the armhole bind-offs, and discover that I dropped a stitch when I attached the new ball. Rip and repeat. The back still bugs me, so I rip back and reknit most of the back. I knit the sleeves. I wash and block the sweater: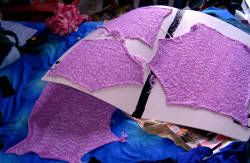 I sew up the raglan seams. I pin the sweater together and try it on. Crap. My row gauge was off, and it really did matter. Luckily, the raglans started with a (double decrease, single decrease, single decrease) pattern repeated four times. Rip back all four sections and knit two single decrease rows for each double decrease row. The hell with blocking - straight to seaming. And finally a sweater to wear: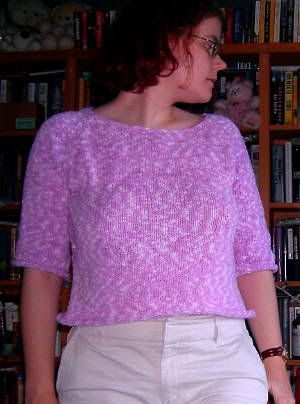 (I usually wear a bra, but was in the midst of laundry and couldn't find a pale bra to wear under this for the photo.)
More at a later (but not as much later) date.