OK, no arm twisting was involved. We trekked out to the very east end of the city (we live a ways west) to check out a new yarn store - Phildar galore, lots of Rowan, Noro and all sorts of other non-Patons and non-novelty stuff. Hurrah hurrah. As I walked around carrying very little, Mom asked if I was buying yarn after coming all this way. Well, how could I resist such an impetus? (Yes, I have a rubber arm when it comes to yarn.) I picked up needles (2 mm for Hush Hush), the 16-24 Phildar magazine (which is fabulous - all sorts of stuff I would knit) and this: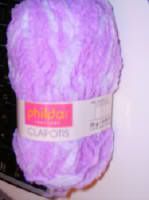 Nine balls of the lovely new Clapotis yarn (not to be confused with either the Knitty pattern or the previous incarnation of Phildar Clapotis, which occasionally appears on eBay) in Lotus, which will be knit up into this: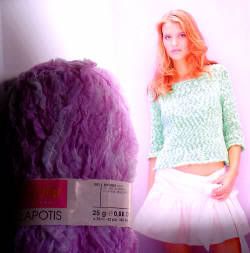 A simple raglan sweater from the spring Phildar. A nice, easy and (hopefully) quick knit, to alternate with Hush-Hush, which is driving me up the wall. Three tries to cast on (first two twisted, third time, I just knit flat for 9 rows and seamed it up.) Multiple rip-backs because I keep screwing up - splitting the yarn and making two stitches, forgetting a yarn over, putting a yarn over in the wrong place... Luckily, I've discovered that with careful needle-work, one can rip out 2 or 3 rows simultaneously. I've got about an inch left of the lace, and can't wait until it's finished. (I took a picture, but it really sucks - fuzzy and the color's wrong.)
(Note - the following is a large block of possibly boring text. Feel free to skip to the next group of photos - doesn't hurt my feelings!)
I watch "Pardon the Interruption" as religiously as TSN allows. This week, it's been all "Danica Patrick this, Danica Patrick that." (Danica Patrick is a female racer currently running for Rahal in the IRL. Very talented driver in an excellent ride.) The boys have been bitching that some of the drivers are complaining that her smaller body (she weighs about 105, the numbers bandied around for male drivers are 150-200) gives her an advantage, as IRL cars must meet weight specs without the driver. The lighter the car, the better. The IRL has no plans as of now to change this. Do I think they should? Frankly, I don't watch the series, so I don't really care. It just pissed me off to listen to Wilbon and Kornheiser blither on about a subject they know NOTHING about. Racing got ABSOLUTELY NO PLAY on the show until Danica did well at Indy. So don't be telling me, who actually watches the sport, what the rules should be if you can't name three other races in the series. [/rant]
On a related note, a bit of happy/sad. Bruno Junquiera was injured in a crash at the 500, and will be out for the immediate future. I feel bad for him, because the injuries were pretty severe, and it's gotta suck not being able to do what you love. However, Servia got his ride at Newman-Haas (not clear if it's remainder of season/Bruno's return or just this weekend) which is a far better team than Dale Coyne. Coyne does well with what he's got, but it's Minardis and Ferraris. (For those of you reading this with minimal comprehension, perhaps you'd be interested in knowing that the Newman in the team would be ol' Blue Eyes himself, Paul Newman. Who looks a lot older in person.)
Picture time! Let's go with my finished object, Opale.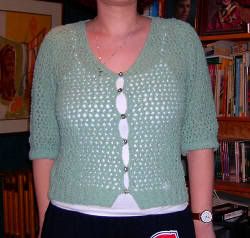 I cut my head off, because I had a very strange look on my face. I really like the buttons I bought. The original had just plain matching buttons, but I found ones I liked better:

See? They look like little roses, with fake rhinestone centers (for $4 for 3 buttons, that's not a real rhinestone, I'm sure.)
I'm tired and it's late, so a few last pictures & I'll sign off. I've been having severe bouts of insomnia (I go to sleep when people are starting work) but that's turned out to be my favorite time to finish stuff - mattress stitch is just the right level of mental engagement. So, I seamed the first sleeve of Peek-a-boo: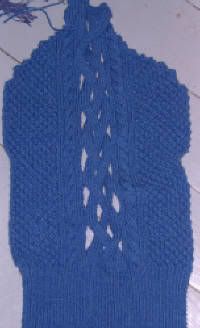 If you look at the upper braid, you will notice that it is extremely wonky. I started to fix it, but it's a bigger problem than I thought, and I'll need to redo the upper part, which means taking out all the mattress stitch (because most of it was done from the top down with the end tails) and redoing it. That will wait until sleeve 2 is finished. Plus, lookie here: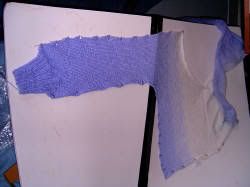 That's one quadrant of Kimono blocking! In preparation for seaming! I've got two more quadrants blocking now, so just one more and I'm ready for my next bout of insomnia.
G'night.