Why? Because little brother has taken the camera with him, so he has it for his vacation. Aren't I a nice sister, letting him use it? Of course I am. (Between that and assisting my mother in washing Stinky Butt this afternoon (Patches is having some issues), I've earned more yarn!)

First up, Inishmore on (along with several hundred books):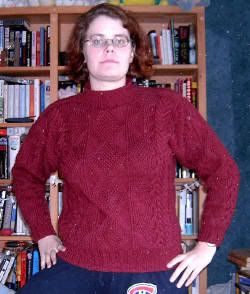 Pretty, no? (Click on the image for a larger close-up.)
Opale is close to finished - I still need to weave in the ends, do some finishing crochet and find appropriate buttons. I finished the seaming tonight while watching TV. No pictures, because the camera left before I did the side seams.
Mom's newest pair of socks are half-done, with the second sock on the needles:
(first sock in progress) This is the Retro Rib pattern out of the Fall 04 IK. It was a bit tricky at first, and I have a feeling that there are several twisted stitches that shouldn't be there, but that's the way the cookie crumbles. The second one should be done soon enough.
When I went in for sit and knit on Thursday, I picked up a few things: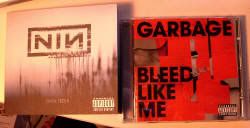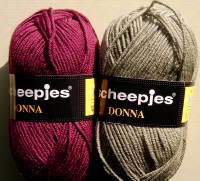 The yarn was test yarn for
Seaforth
for my mother. The original is knit in gansey/guernsey yarn, which supposedly makes a very warm fabric - good for its original use, which was fisherman's sweaters. I don't need anything nearly that dense, so I checked my LYS for sport weight yarn. To say the selection was less than stellar is an understatement. My options were linen and acrylic. I ended up buying the two balls of DK merino/microfiber blend you see above. Lovely yarn, but wrong for the sweater - I did two swatches, and the one on 2.75mm needles was on the edge of too dense, but still not making gauge. I'll give the swatches a wash, but I don't expect anything to change significantly. Must find a real sport-weight wool.