My sleeve concerns with Inishmore were premature. Once I continued along, they both ended up the same size (or at least not noticeably different!), so they are both on the needles for saddle knitting. I took it with me to sit and knit today, but kept botching them (dropping stitches, mis-knitting stitches.) Therefore, it was clearly time to whip out project number 2. The back of the Phildar sweater is on the needles, at least partially because I needed a project for Monday band practice. Here's a current photo: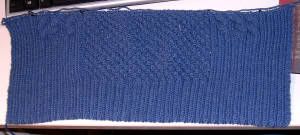 I've just started the side cables, so the detail there is still a little hard to see (especially in the denim blue I'm knitting in!) When I'm further along, I'll get a detail shot.
Of course, the LYS offered some temptations. A big ol' delivery came in, but it was mostly fluffy crap. Even the staff hates the stuff, but it does sell. I bought a book/magazine/pamphlet... oh hell, just more fuel for my pile of "Things I want to knit." (Maybe that's why I don't understand all the "What should I knit with this yarn?" questions on the board. I have so many things I want to knit, that it's just a matter of matching stuff up.) I bought the new
Jaeger whatchamacallit
for their Siena yarn (4ply cotton). I won't be buying the yarn, but the LYS has other fingering weight cotton for when I knit Rosita (first picture on the linked page), which will look lovely with my new black skirt. But first, I must finish Inishmore, Peek-a-boo, get cracking on Sweet and Lowdown and knock off one of the summer tops (either the ChicKami or the Ribby Shell) before buying more yarn. I've also got my eyes on Hush-hush after seeing
Joeli's
, but since only my cat spends time in my boudoir, it can wait.
To explain the Puppet Angel to those of you not enamoured of the Whedon-verse:
"Angel" is a TV show spun off of "Buffy the Vampire Slayer" (originated in the rather hacked-up film, but much better in its TV incarnation.) Angel is a 200+-year-old vampire who is cursed with his human soul (otherwise, vampires really don't give a flying fig about anything). He lives in LA and "helps the hopeless" (at extremely low rats...rates.) In one episode, children are found collapsed in front of their TVs with frozen smiles on their faces while watching "Smile Time," a popular kid's show with puppets (3 little kids and something that vaguely resembles Grimace, but only honks.) Angel goes to the studio to investigate, where he finds a big old egg-shaped thing that blasts him with light and turns him into a puppet. He spends the rest of the episode in puppet form, eventually vanquishing the bad guys in a puppet-on-puppet battle. The kids all return to normal, and eventually Angel does too. (Which is good, because the werewolf he's got the hots for totally shreds him, leading to one of the funniest lines, "Is there a Gepetto in the house?") The puppet I'm getting is a half-size replica of Puppet Angel. More information than you really wanted, I'm sure.