Yes, pictures at last. First, a picture of Clapotis in progress: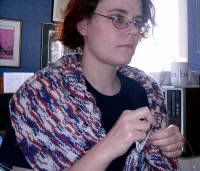 It was long enough that I could wrap it around me while knitting - handy when one got cold! And here is the finished product on: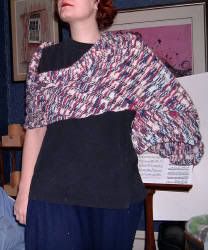 Certainly classes up the sweatpant and t-shirt ensemble, don't you think?

Mom's socks are finally finished: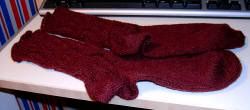 I wove in the ends while watching "The Motorcycle Diaries" tonight, when I got fed up knitting Inishmore. You will note that Inishmore is up to 90% done in the sidebar. I have a nasty suspicion that that figure is going to drop in the next few days. Sleeve one is not seeming to match sleeve two. If that is the case when sleeve two is done, sleeve one will be ripped out and reknit (waaah!)

Oh well, I ordered my birthday present on Friday (anything that's purchased online is purchased by me, the only person willing to do it. I also bake my own birthday cakes when I want them. This year, I'll be making a lemon meringue cake. Oooey goooey good.) It took at least 45 minutes of web-surfing (and possibly more) to find a place with it in stock to pre-order. I looked today, and the place I ordered from is now listing it as sold-out. So acting quickly was in my best interest.

What am I getting?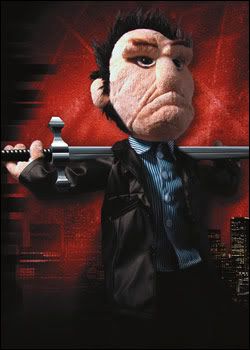 My very own 1:2 scale Puppet Angel replica (sword not included). I just had to have it. (Juvenile, moi? Of course. You had to ask?) It won't ship until April, which is after my birthday, but I'm used to waiting for stuff (my Christmas yarn took almost two months, for example.)