First, a slight whine. I frequently check the old ezboard. People periodically pop up and ask questions in Pattern Help(yes, even though it says quite clearly at the top "We've moved!") So, a while back, I posted a thread in there entitled "THIS BOARD IS NO LONGER ACTIVE", with the message giving details on where to go. Tonight, I pop in, and someone has asked a question. What does it take?

Off of rant mode. Much knitting progress has occurred, as you can see by the sidebar. I have a nearly finished Inishmore: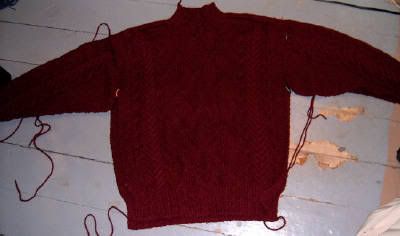 Saddle seams are sewn and neck is knit, but the rest of the seaming remains to be done. I'm taking a finishing class this weekend, and hoping for help on the whole "what do I do with this big chunk of fabric where shoulder and sleeve/side seams meet?" Took it with me to sit and knit, and got many compliments.
Here's a progress picture of the back of Peek-a-boo: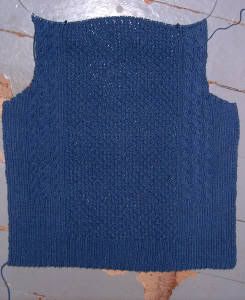 It's now complete, with short-rowed shoulders waiting for the front for a three-needle bo. It will be waiting a while, since I cast on the other sleeve on the car ride home. (Why? Dunno. Might have been fewer stitches, or just because.)
At sit and knit, I cast on and knit the first few rows of Sweet and Lowdown, after swatching to proper needles Wednesday night. (Pattern said 6mm, I'm using 5mm - nice, since I had the proper length circular in that size!) It's going to be rather beastly to knit - the gauge stats for the yarn are 17 sts to 4 inches on a 5mm needle, and I'm doing fairly complex cables using 2 strands of yarn on 5mm to a stockinette gauge of 15 sts per 4 inches.
Which segues neatly to my next point. I need a travel project - something simple and easy to knit at band practices, during car rides, etc. Since I'm not currently buying yarn, it's got to come out of my stash, which is fine with me. I've got some options: an
easy openwork cardi
in Phil'Eponge; a
Ribby Shell
in Jo Sharp Soho Summer; a
ChicKami
in Four Seasons Roma; or yet another pair of socks, either for me or for my mother(yarn for 5 pairs in stash). In the interests of democracy, I thought I'd have a poll. I promise to abide by the results of the poll. So, tell me what to knit!