Actually, they closed yesterday, I was just too lazy to blog. At the point when I checked, so I would have time to nab the bits needed to swatch for given project, the Phildar cardi and the socks were tied with 2 votes apiece (the two tanks had one vote each.) Since (a) the cardi was really tempting, especially seeing what the Keyboard Biologist's Phil'Eponge being knit up (scroll down to Tuesday's entry) and (b) my enthusiasm for socks is pretty much non-existent at this point, I cast the deciding vote and picked the Phildar cardi, which now appears in the sidebar. The swatch actually worked up perfectly on the specified needles, and I discovered that the Eponge works best for me on bamboo needles. Luckily, I own two sets of bamboo needles that work for the project - 5.5 mm straights and 4.5 mm circular (OK, the ribbing is supposed to be done on 4 mms, but I didn't feel like either fighting the slidiness of the yarn on metal or buying another set of needles, so 4.5 it is!) I'll take pictures of the back when it's progressed a little more - it's just ribbing right now, but it's at the requisite 5mm, and will be switching to the straights and pattern stitch at some point. It may come shopping with me tomorrow, or Sweet and Lowdown may. It's also progressing nicely, and pictures will come after I finish the first repeat of the center cable (which won't be long now, since I'm at row 26 (I think) of 36.

Now, onto some photo content. In the early days of the board, there was a discussion of looms. Entrelac said that she had thought about acquiring one, and I jokingly offered ours. Why, you may ask? Well, because this is what it looks like, and is pretty much what it's looked like the entire time we've owned it: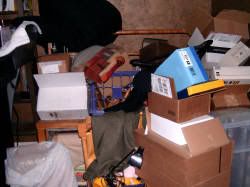 I swear, there is a loom under all of that crap. Once spring has well and truly arrived (and Dad goes on a business trip, most likely), the loom will be disassembled and put in the attic. It resides in the guest room/Mom's den, and Mom can't currently use her treadmill, because there isn't enough space to lower the thing. Dad had great plans to learn how to weave about 20-25 years ago, but nothing ever happened.
Last week (again, I'm a slacker blogger, 'kay?), I got a package in the mail from Seven/Susan. Totally unexpected. Enclosed were some nice soft rubber stitch markers (currently in use on both Sweet and Lowdown and the Phildar cardi), a couple of the Clover lock ring markers that I love (they work really well for assembly of garments for me) and a bunch of coilless safety pins (will come in handy when working on the lighter summer projects.) Plus, for the beasties of the house: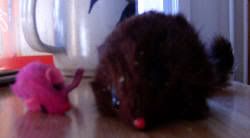 A mouse and a rat. Both have been cat tested and cat approved - Carolina chases the mouse and Patches rubs up against the rat. (Patches is a lover, not a fighter.) I really need to get off my butt about a thank-you present, but it's a slacker kind of week.
Off to either work on Sweet and Lowdown or seam Inishmore.