With feet that look like it. I blister easily, and my feet are such that extended periods of walking cause blisters. (It's one of the reasons I hate shoes - I have never owned a pair of shoes that didn't cause blisters at some point in time.) Having checked out Yahoo Maps (because every time I've used Mapquest, it's been wrong), Romni Wools was supposed to be right near the Eaton Center. (Those of you from T.O. can laugh hysterically.) It's not. It's about 20 blocks west. Twenty very unevenly numbered blocks, so there was no clue as to how much further it really was. The backs of my heels blistered and bled, and the balls of my foot by my big toes blistered. So I started walking on the outside edges of my feet to compensate. The pain that resulted is not pleasant.

[/whine](I thought about taking pictures, so be glad it's just whining!)

The concert was amazing. All the bands were good (although one of the bands didn't play.) It was a little disconcerting to be around that many teenagers. Made me feel slightly elderly - especially since many of them didn't have a clue who Helmet was. (Just like most of my friends.)

This post is now all about what I bought. I did knit there and back on the train - I took Clapotis, so that's progressing nicely. Pictures in the next entry.

First stop in Toronto was Romni Wools. Why can't I have a yarn store like that much closer? All sorts of stuff. Including my beloved Phildar. Here's what I bought: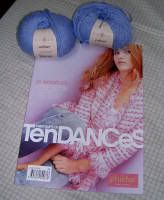 Spring Tendances and 2 balls of Rowan Calmer in ... Tinkerbell. Honestly, I might have bought a different color if I'd known that was the color name. Entirely too twee for me. The Calmer may become Shedir, or it may not. I do regret not picking up some Phildar Sunset to play with. (And if I'd known they had Phildar yarns, there were a bunch of projects that could have be bought for, because I would have brought the stats. Oh well, I've now seen the yarn, which makes it easier to substitute.)
After that, I checked into the hotel, dropped off my crap, and headed back to the Eaton Centre. One big ol' shopping mall, full of stores that I could go to at home, and some I couldn't. I wandered through Williams-Sonoma, but didn't buy anything (I need
Easter ramekins
like I need a hole in the head. They're still cute.) Then I spent a long time wandering Sephora. I'm a total makeup junkie who never wears the stuff. But I did buy this: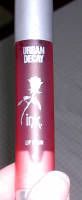 Lip stain in deep red. Doesn't wear off quickly, which is nice. I love Urban Decay. I've been buying the stuff since the company started. When I lived in Pittsburgh, the only place I knew of to buy it was Avalon, where I always felt dreadfully underpierced while shopping. In Portland, I went to Nordstroms, where I always felt underdressed. I missed Avalon.
Next up was H&M. Very trendy, you see it in all the magazines, and I'm not holding my breath for a store up here. Pity. Decent clothing at a good price. I bought a black silk georgette skirt for $20. With the following label: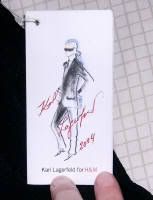 What can I say? I spent my teenage years reading Elle. Damn right I was buying this. Thankfully, it did look good on me. (Sorry, no picture - black doesn't photograph well.)
Back to the hotel. I ended up eating dinner in the pub, because I didn't think I would get very far on foot! Then I caught a cab and went to the
show
. As I said, had a great time, lost another chunk of my hearing (when it comes to earplugs, I'm old enough to know about them, but still young enough not to care), and got rid of all sorts of stress. No photos of the concert (too close to the pit to risk taking the camera), but here's what I bought: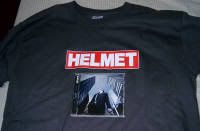 That would be a new t-shirt (my old one is getting a touch battered) and the CD of the opening band
Strata
. I really liked them, and the album isn't being released up here until the end of March. I ended up leaving halfway through the last band's set - my feet hurt and the light show kept blinding me.
The next morning, back to the Eaton Centre to hit the drugstore for extra-strength Advil and blister bandages. Once I was drugged and padded, I went to Indigo (big chain bookstore) to see if my feet would soon reach a condition suitable for more walking. Browsed the books and the magazines, and bought "Confessions of a Wicked Stepsister", This Magazine, and The Atlantic. (Magazines for the train, because I can't knit and read paperbacks - they don't stay open.) My feet feeling pretty damn good, I headed for Kensington Market (with a brief stop at Lush to check on the status of my beloved Potion lotion - it wasn't pictured in the last catalog, so wanted to make sure it wasn't being discontinued) and hit
Lettuce Knit
. Amazing selection of yarns - Blue Sky Alpaca, Lorna's Laces, Koigu and others. I almost bought yarn, but bought this instead: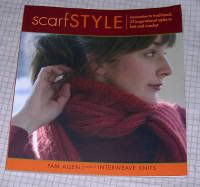 Many interesting things in there.
Then I went to the train station, got in line, boarded and went home, knitting all the way.