Fill in last word as desired. New Year's is a holiday that I'm not fond of. As a celebration, it has always struck me as couple-y - kiss someone at the stroke of midnight and all. I have always spent it in some form of foul mood in my room. Alone. This year, I knit.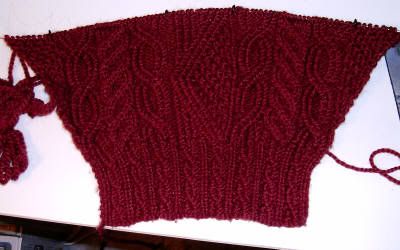 This is more than one evening's knitting. The cuff was knit on New Year's, the rest over the past couple of days. It is hard on the wrists, since it is knit so tightly, and the pattern is complex, so no knitting in front of the computer.
You may note that my mother's socks have retreated to 0% done. I haven't done the ripping yet, but they are too large, so I need to grab the 2 mm needles and swatch. If it needs a smaller needle, it will have to wait a little over a week, until Elann puts up the new batch of solid color sock yarn. No point in ordering in bits, if I can order in one fell swoop. That newsletter is just way too tempting. They've got Jo Sharp DK going up later in the month, which is called for in one pattern I really like (Marcel's Sweater, Winter 03 IK) and could be substituted in others. Then again, I have more than enough. I'm hoping that's the argument that will win the day.
New Year's Resolutions? Just one - to read at least one book a week. This is not an unreasonable goal, but I only managed about half of that last year, and that tended to be in fits and spurts. I'm chalking up the slowdown (I've been as high as 4 a week on average) up to two things: knitting and the plethora of magazines around the house. When I lived on my own, I rarely bought magazines - I preferred to spend the money on books at Powells (more value for the dollar). However, here is the list of weekly magazines that come into this house:

Time
Newsweek
Macleans (Canadian weekly newsmagazine)
The Nation (I'm a liberal, OK?)
TV Guide
Entertainment Weekly
Womans' World
Soap Opera Digest
Soap Opera Weekly

I'm not about to list the others that come in - but we get an average of 2 magazines a day in the mail, and my mother buys others. And I read a fair number of them. No wonder I don't have time to read books. I may try to cut back on some of the magazines, but I'm not making any committments.

No knitting resolutions - I'm happy with where I am. I need to work up the Fair Isle hat that Joeli sent me, but I have a feeling I'm more a texture knitter than a color knitter. I only knit what I want, and have to date not been pressured to knit stuff I don't want. However, one of the band members was "suggesting" I should design and knit an afghan to be raffled off to raise money. I don't want to do that. Why? (A) Money. Buying a quality yarn is going to run big bucks (I think both of the afghans I knit for family members ran about $100), and I'm expected to pay for it. (B) Time Involved. Based on past experience, it will take a month to knit, without being able to work on other projects. I have a laundry list of things I WANT to knit, and I don't want to lose a month to something I'm not excited about. I do have a baby blanket I knit up several years ago that I may offer. If I dig it out tomorrow, I'll take a picture - it's the "Little Lambs" blanket from Vogue Knitting on the Go "Baby Blankets" (little blackberry stitch sheep on a reverse-stockinette background. I think the person who was "suggesting" I do all this work wanted something with a musical theme, but frankly, I think that's a bad idea. Narrows the population to sell raffle tickets to. I wouldn't want such a tacky thing in my house, and I don't think I'm alone in that. Hey, it's my time and money (OK, parental units' money) and I don't want to waste it on a project I hate.