Been a while since I posted. Combination of factors at play. I got hit with the following in rapid succession - horrendous cold, canker sore and PMS. The cold was the worst - 4 days spent in bed, knitting a little, reading a little, sleeping a little, repeating in between popsicles. Popsicles were necessary because my throat got so sore, I lost my voice for three days. My throat is my "sore spot" and has been forever. I took a meditation class once where we did a chakra meditation. Most of my chakras were odd, but OK (by "odd," I mean randomly colored - if it was supposed to be red, it would be green, but the light spun just fine.) My throat chakra was black and a sucking hole - I actually had problems breathing. I really should do the research to see if that can be remedied. But I don't.

Anyway, not much knitting has occurred. I finished the body of the sleeve for Inishmore - the saddle is supposed to be the length of the front and back cast-offs - which means I need to knit the front and back of the sweater before I finish the saddle. I have started the back, but no picture (all it is is the bottom ribbing and the first two pattern rows - there's nothing to see!) I also restarted Mom's socks on the next needle down: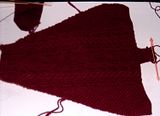 Peek-a-boo is still awaiting a cast-on.
I picked up more yarn and needles at elann this week (cheap single-color sock yarn and 0000 Addi dpns - that size of dpn is not available around here.) I'm currently working at building my resistance to the Jo Sharp DK that's going up next week. Tuesday will be the real test. I kinda wish I wasn't getting the newsletters (I didn't subscribe - I guess I've spent enough that it's worth it to send it to me anyways) - way too tempting.
The crabby one shall go take a shower now.