My Knitty swag (for dealing with mor... I mean, moderating the boards) arrived yesterday, and I paid off customs today: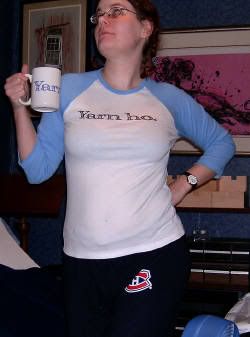 Please excuse the aqua bra - it happened to be what I was wearing today, and I didn't feel like finding a white one just to take a picture. I'm also wearing my new pyjama pants (a Christmas present) - note the Canadiens logo. Click on the picture to see the back side of the pants. (There's true bravery - a picture of my butt for the world to see!)
No iPod for Christmas. My mother couldn't stomach the price, and I wasn't going to fight about it. It's not like I feel left out or unappreciated. I got a stack of books (3 cookbooks, some novels, some comic books - a "Get Fuzzy" collection and "The Daria Diaries"); makeup (eyeshadow and nail polish from Urban Decay and a bunch of sample stuff, all from Sephora); the aforementioned pyjama pants and an Expos baseball cap, similar to one I owned as a child; the first season of Twin Peaks on DVD (which is missing the pilot episode for some reason I don't get); the Oppala chair I need to make Sweet and Lowdown; a $40 gift card for my LYS; and 4 hanks of Lorna's Laces Lion and Lamb in Liberty (which should get here some time in February, I think). I may be able to wheedle my way to a ball winder.
The gift card has been spent at the Boxing Week sale at my LYS - I am now the proud owner of 15 balls of
Filatura di Crosa Zara
in Denim. It will become a
"Peek-a-boo Cable"
sweater from Phildar (that would be the one on the left-hand page, of course!) I'll start with a sleeve, and if I really hate how it's working out, the Zara will end up as something else. It's a fairly loose knit, which contrasts nicely with the other sweater about to hit the needles, Inishmore. Gauge was finally achieved on #3s. I just need to straighten out my #3 circular (I used my straights for the swatch) and I'm ready to go. Add in the socks I started for mom while watching "Pirates of the Caribbean" and I'm fully booked for a good long while. My guess is the Phildar sweater will become the travelling project, as the stitchwork is less complex than that of Inishmore. The Phildar starts with the bottom ribbing, and is then split into thirds, with each third being knit separately, and everything is sewn up at the end.