I was lazy about taking pictures yesterday. Call me a lazy wench if you like - I do!

Here is the shawl spread out on my parents' bed (why there - off-white bedspread much more conducive to good picture than my aqua/royal one!) If you click on the image, a larger one will open in a new window!




And this is the shawl on me (the color is faded - the other picture is more accurate):



And I have started the next project - Dad's DNA scarf. I've finished one repeat of the cable: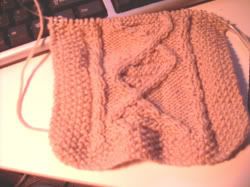 This picture isn't quite color accurate, but it's close!

In other news, I went shopping today. I stopped by our local book-disaster zone... I mean used bookstore. They now take Mastercard, which could be dangerous. I bought two books - [u]Beyond Wool[/u] by Candace Eisner Strick and [u]Canada Knits[/u] by Shirley Scott, which is a history of knitting in Canada (which one could glean from the title.)

I then went to my local library, and now remember why I don't go to my local library.
I went in search of three books. I actually checked the online card catalog, figurign that they wouldn't have any of the books (Great Big Knits by Dawn French and Sylvie Soudan and Designs in Handknitting by Christian De Falbe. Wrong. They had two. So I head back to the appropriate section, and dig them out. Plus, I found three others I wanted to check out - two Starmore books and one by Zimmermann. Yippee. I go to check out. You can't take more than two books on any given subject. So only the two I wanted in the first place came home. I'll go back tomorrow and get the others. The policy makes sense when you have schoolkids coming in looking for books for projects for school. But, neither of the books I actually got had been out for at least a year, and I don't think there's a whole lot of demand for knitting books anyways. Grrrr. Between that and the general lack of selection, is it any wonder I just buy what I want?