...a voracious reader discovered knitting. Knitting really ate into her reading time, because it's difficult to hold a book open without growing a third hand. However, this reader has decided it's time to perk up her reading a bit. Well, her book reading, since her blog reading turned up an post by Sprite about a readalong that caught her fancy.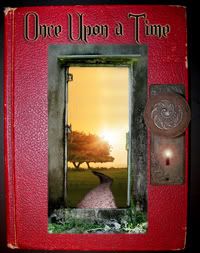 Now, fantasy is not a genre this reader reads a lot of, or at least she doesn't think she does. (Mind you, a tendency to associate fantasy with a lot of many book epics that make finding science-y science fiction harder may play into this belief about fantasy.) However, being in need of a challenge, she decided to take on one of the quests. There were three options:
Quest the First

Read at least 5 books that fit somewhere within the Once Upon a Time II criteria. They might all be fantasy, or folklore, or fairy tales, or mythology…or your five books might be a combination from the four genres.

Quest the Second

Read at least one book from each of the four categories. In this quest you will be reading 4 books total: one fantasy, one folklore, one fairy tale, and one mythology. This proved to be one of the more difficult quests last year merely because of the need to classify each read and determine which books fit into which category. I am not a stickler, fear not, but I was fascinated watching how folks worked to find books for each category.

Quest the Third

Fulfill the requirements for Quest the First or Quest the Second AND top it off with a June reading of Shakespeare's A Midsummer Night's Dream. Love the story, love the films, love the idea of that magical night of the year and so this is my chance to promote the reading of this farcical love story.
After reviewing the options on her shelves, the reader decided on Quest the Second, with an option on Quest the Third (the reader finds plays difficult to read). Now, categorizing the books had the reader rather stumped, so she's categorized as best she can, but if someone else thinks she's so far off base as to be crazy, she's also willing to listen to suggestions. The reader also listed far more books than she plans to read, since she's a rather fickle reader. The options are:
Fantasy
New Moon
and
Eclipse
by Stephenie Meyer (most likely counted as one because I think they're a little easy for me to read to be counted separately. I reserve the right to change my mind, especially considering these are library books and the wait for
New Moon
is currently around 80 days.)
Don Quixote
by Miguel de Cervantes
The Third Policeman
by Flann O'Brien
The Master and Margarita
by Mikhail Bulgakov (I read this in my freshman year of college, which was very long ago)
Gentlemen of The Road
by Michael Chabon
Walk to the End of the World
by Suzy McKee Charnas
Fairy Tales
(the category that I found most problematic, and tends to wander darker paths than might be expected)
Alice in Wonderland/Through the Looking Glass
by Lewis Carroll. Never read it as a child, and I think it's time to correct that.
The Case of Charles Dexter Ward
by H.P. Lovecraft (I think I read this in my high school Lovecraft phase). See, darker paths.
The Turn of the Screw
by Henry James
Mister B. Gone
by Clive Barker
Folklore
Tristan
by Gottfried von Strassburg (I also have
The Romance of Tristan
by Beroul, but I read that and not the von Strassburg when I was in high school.)
The Mists of Avalon
by Marion Zimmer Bradley
Dreaming the Eagle
by Manda Scott
Mythology
The Mabinogion
The Iliad
(Fitzgerald's poetic translation). I have issues with reading poetry, so I may skip this and the next one.
The Odyssey
(Fitzgerald's poetic translation).
Options considered but ruled out (because I've read them recently) but highly recommended if you decide to join in:
The Penelopiad
by Margaret Atwood (along with others like
The Handmaid's Tale
or
Oryx and Crake
- Handmaid's better); Jasper Fforde's oeuvre;
Summerland
by Michael Chabon and the
Harry Potter
series.
Reviews of some sort shall be posted as the books are read.