I have been busily knitting away on my Bloomin' Feet socks, once my wrists recovered from the first round of Sock Madness. The yarn is doing what handpainted yarn tends to do - confound expectations: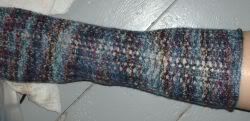 The spiraling stripe changed direction on the sock leg! How interesting. I think it's neat-o, and I hope the recipient will feel the same way. The striping is less obvious on the side view: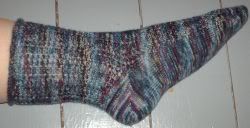 I changed up the cuff pattern, or so I thought. The Nautilus pattern calls for several rows of stockinette, which curls over. I decided to continue upwards in a 4x2 rib for 10 rows. Which curled over. Odd, but I really like the effect, so it's staying.
As for the striping? It got even weirder on the second sock: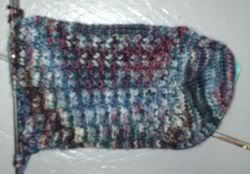 I've just started the leg, so how that's going to end is still a mystery. I hope to finish it up either tomorrow or early next week. The second round of Sock Madness should be starting at the end of the week, so I want my schedule freed up. I'll probably knit a hat after the BF socks are done, just for a change of pace. I've also got a mystery lace project that needs a bit of tinking before it can progress.