I finished up my Bloomin' Feet socks!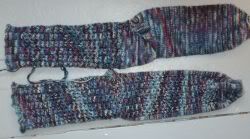 Well, mostly finished. The crappy photo is mostly there to prove that there are two complete socks. That strand of yarn floating around? Last end to be woven in. After some momentary panic when cropping the picture - Ohmigod, the socks don't match! War! Panic! Mushrooms! - a bit of experimenting determined that they are the same size, but one had been on my foot and the other hadn't, meaning one was slightly wider and shorter. A good wash will fix that. So, when I can find a blooming spring plant (or, if necessary, abscond with an African violet), proper photos will be taken. The weather just needs to make up its mind first.
You might notice a new entry in the Finished Items column - the
Esther Williams Hat
(scroll down to the third entry). I printed this out a long time ago, and finally knit it. It's a speedy knit - I cast on yesterday afternoon while websurfing, took it to band practice, and finished it up this evening. No photos yet - I'm waiting for daylight. I'm going to skip the crochet trim, because I seem to have an abnormally shaped head and it's already just past my eyebrows. The crochet trim would probably block my vision!
So, what's up next? Round 2 of Sock Madness. The new pattern calls for a sport weight yarn. I finally found one that I loved -
Angora Valley Fibers Monarch
, especially the Field of Dreams. Problem? I found it on Saturday. There isn't a snowball's chance in Hades that it could have made it here in time. (One of my Zip DVDs took a week to get here from Calgary.) So, it was either stash dive or buy some Briggs and Little. Exfoliating as the B&L would have been, I turned up something I hope will work in the stash: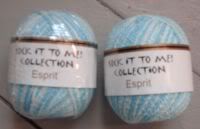 That would be some ... well-aged Esprit Print from Elann in Summer Sky. You may have seen it in such projects as
my first-ever socks
(the ones that were two different sizes) or
my fishnet stockings
. I got gauge, and if I run short, I'll just have obnoxiously mis-matched toes (I'll probably use the leftover Fourth of July I used for my Broadripples.) A couple of other people are looking at using it, so I won't be the only one in trouble if it doesn't work. The pattern is to be released tomorrow evening, so I'll find out then how this goes.
And, I succumbed to the siren song of Elann last week. Usually, I wait until late afternoon, at which point, the colors I want of a given yarn are long gone. Not so much with this: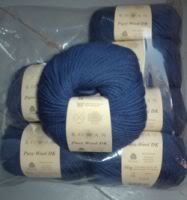 Seven skeins of Rowan Pure Wool in Ultra Marine. It will become
Cambridge
, a RYC pattern currently available free from the Victoria and Albert Museum website. I've been wearing one of my Ribby Shells as a vest and really liking it. So, more vests in my future!