And started more.

First up in the completed objects is the Anna socks, which have been done for a long while, just not posted: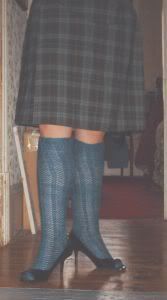 The picture is crappy because it was taken in the "Autumn of no damned sun." I did the shaping alterations that most are doing for Anna - downsizing my needle once past the bulge of the gastrocnemius. I should have gone down again at the ankle, but that's life. Again, like everybody else, the socks twist - design defect. I like them, and I really liked the Lisa Souza yarn.
Next up is the Phildar cardi:
This has a few fit issues - it's prone to feeling like it's going to slide right off my shoulders. Part of that may be overly tight armscye seams, and part of it may be very little in the way of actual shoulders. It is warm and cozy and slightly oversized. I picked up the button at a booth of vintage buttons at the needlework show, and I'm really happy with it. It's not really functional - I sewed the front closed, because it tended to pull and not show off the button. I just pull the sweater on, so it's not an issue. I was right to buy the two balls of grey, because I used almost all of it, and would have run short of the blue otherwise.
Final completed photo is the Klein Bottle Hat Dad wanted for Christmas: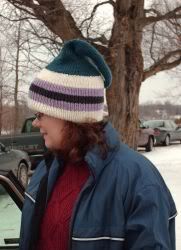 The picture was taken when I went to one of the two Christmas parades I played in. (note Inishmore being worn as well. Layering is good for Christmas parades!) I used the pattern as a basic framework, subbing in Mission Falls and knitting it at roughly twice the gauge of the pattern - the pattern called for 11 stitches over 4 inches, I knit at 24 stitches over 4 inches. Dad liked the hat, so all is well.
Now, for incomplete photos of completed objects. (Like you didn't already know that I'm a lazy photographer!)
Mom's Christmas socks, a/k/a/ Slayer socks: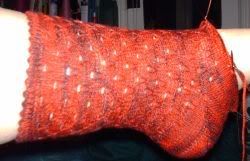 This is the SweetGeorgia Yarn in Slayer that I ordered back in July. They're of my own design - because Slayer yarn automatically led to tombstones on top (picot caston) and stakes all the way down (Eiffel Tower stitch). I did the entire sock in reverse stockinette after the picots, which got tricky when I had to inside out the sock to graft it closed. (Shoot me, I'm a perfectionist.) The picture color is off a little - the colors are darker. I need to get Mom to model them properly. One of these days....
The very first finished object of 2007! Sleepy Toasty Toes: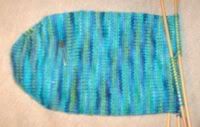 This is the foot of the first Sleepy Toasty Toes, a pair of anklets knit out of the lovely handpainted yarn Rachel included in my Toasty Toes package. They are going to be sleeping socks - if my feet are cold, I can't sleep. I decided to knit anklets because I was concerned about how much yarn I had. I was going by weight, and I had about 50 grams. Turns out, the concerns were needless, because I've got a large amount left. I just finished them, and haven't taken a picture yet.
Now, for the new items on the needles. First up is my new knitting tote: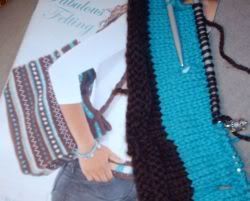 That's the start of the bag and the photo of the original, which I'm using for the construction. Too much faffing about with beads and multiple colors for my taste. There were some issues with the turquoise, which Patons calls "Too Teal." Too damned cutesy, and led to the person at the other branch of my LYS sending actual teal yarn instead of what I wanted. Now, I just picked it up last Thursday, planning to work on the bag through sit and knit. However, the wrong yarn left me in a bind. I hadn't brought another project, mostly because I didn't have one at the time. So, I had to buy something to work on. Ergo, the Desperation socks: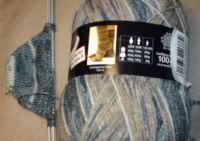 Austermann Step yarn in color 06. I liked it on the shelf more than I liked it knitted up. Nothing was really sending me anyway, so I don't think I would have been much happier with anything else. They'll stay in my knitting bag as a backup project until they're finished.