Recentish because all the yarn was acquired in October.

First up, does anybody else remember the cat bed I knit for a friend? Looked like this: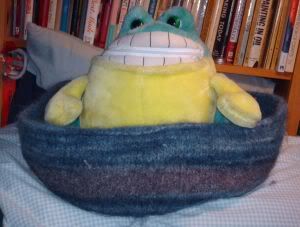 Well, it turned into this: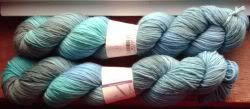 Two skeins of Lorna's Laces Shepherd Sock in "Cool." I asked the cat bed recipient to buy what appealed to her, and it turned out great. Eventually, it will be socks. (Shocking, huh?) She also sent a Lantern Moon needle holder thingie, which is handy for the set of sock needles I've lost the envelope for.
At the end of October was what passes for a knitting festival. There were a few more yarn vendors than last year, but it's still dominated by sewing. It's more than slightly odd that I paid an entrance fee to buy stuff from stores I could visit at any time for free. That said, I seriously doubt I could have picked this up in the store: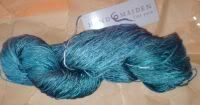 That is one of two skeins of Handmaiden Sea Silk, in what I'm guessing is Nova Scotia (greens and blues - if they're going to name colors, they need to label stuff.) Intended for a stole, once Christmas knitting is finished.
I also bought something now available in Ottawa full time: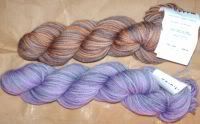 There be Koigu - the lavender selected by Mom, the brown by me (which is shocking, since I am not a neutral kinda girl.) Eventually, there will be two locations selling Koigu in Ottawa, but that's when the shipment finally arrives (it was supposed to be late October/early November.) There are two skeins of each, destined to be socks of some ilk.
I'm debating more acquisitions, but nothing has gotten past that stage. I need to do some swatching for the Eleanora socks pattern (I want red, and I need to see if either SweetGeorgia or Lisa Souza will work with the pattern.) In my seemingly nevere-ending search for stuff from the yarn store to knit with (shoot me, I like unstocked stuff), I'm thinking about
the Southwest Style Bag
, except in just brown and turquoise stripes. I have an urge to knit with brown and turquoise, and own nothing in that combo. I'm also contemplating buying the Forest Path Stole pattern, since my LYS now stocks Misti Alpaca.
Finished/unfinished objects in the next post.