First off, I finally decided on a dress, and ordered it a week ago Friday, so it should be here (knock on wood) early this week - maybe even today. I ended up choosing the wine Obi dress. One, it's really going to be too cold for the 50s dress (it's pretty much socks and sweaters weather now, and it's not going to warm up in the next three weeks); two, I already own dresses very similar to the 50s dress, and I decided to buy something different. Plus, the wedding colors are burgundy, brown and hunter green (I think), so I should coordinate. My favorite cousin is coming up for the wedding (it's been odd - first she was coming with her sister and her mother, then it was just my aunt and uncle, then nobody was coming, and now we're back to the original three), which is really good. Especially since I was at the shower today, and it wasn't particularly fun sitting around listening to all the bride's friends discuss children. I felt much better when I started cleaning up in the games portion - 2nd place (or 3rd if you count the tie for first as covering first and second) in the word scramble, 1st in who knows the groom best (the bride did beat me, but they ruled she couldn't have the prizes since there was a table full of gifts) and the prize for identifying when the groom became a Christian. (Considering only my mother and I knew him back then, and her memory's worse than mine, it was easy - I only remember because it was my freshman year of college!) The questions for who knows the groom best were kind of hard - there was one question (favorite race car driver and series) where the answer contained the proviso that the bride should get credit if she named anybody other than Danica Patrick. She didn't. (I guessed either Raikonnen or Villeneuve, and it turned out to be Allmendinger.)

Enough rambling - on to knitting. I finished up what are now called the Pinkcaul socks: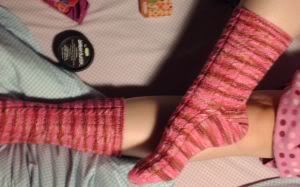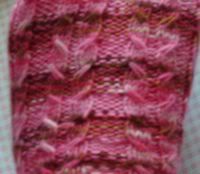 (Yes, I know the toe is cut off - you try taking a photo sitting like that! It's a rapid-increase variation on the figure eight cast on - increase every row instead of every other row.) Very warm and cozy socks. And very very pink!
Now, for what's on the needles. This is a somewhat early photo of the Phildar cardi, along with the original: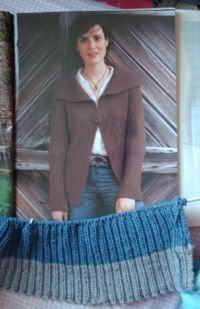 I'm now about 25 centimeters into it, but it just has more blue, with decreases on the side "seams" - I converted into one big piece instead of knitting a back and two fronts. The white markers denote the side. The ribbing worked out nicely - there's a k on either side of the marker, and I decreased into that column. I've got another 15 centimeters or so to go before I split for the armscyes. I thought about picking up the sleeves and avoiding all seaming, but I really like the look of the decreases used, so I'll knit them in the round and then seam them in.
Now, for the Socktober portion of our program. I have three projects in mind to complete/work on this month:
1 - Anna socks from Rowan 40. I swatched, which was particularly important since the Lisa Souza yarn knits up on smaller needles. It's a very stretch stitch pattern:
That's the 48-stitch swatch on my foot (along with a ribbon I had handy.) The swatch goes about halfway up my calf (no photo available - I refuse to publish the forest currently masquerading as my legs.) I tried the sock on after I finished the ribbing, because I had a hard time believing it was going to fit over my gastrocnemius muscle. It did, miracles of miracles.
2 - Write up the pattern for my Toasty Toes socks. I've been meaning to do this, but I've been slacking. (Hell, witness the mystery design that still needs endweaving, photography and writing up for submission.) I need better pictures of those as well, and then I'll box them up and mail them out.
3 - Start design work on Mom's Christmas present. I know what stitch pattern I want to use, but I need to figure out spacing and some other logistical things - I want to do a princess foot since the stitch pattern is worked in reverse stockinette, but that means the figure-eight toe has to be in reverse stockinette, as does the heel. OK, they don't HAVE to be, but I want them to be. Which means I need to figure out how to do both. (There's a reason this is "Start design" not "finish design"!)