I also frogged. A lot. But more on that later.

I finished off the Ottawa socks for mom: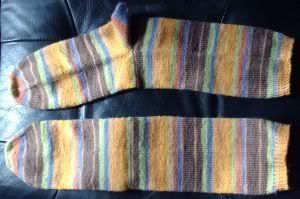 Nothing exciting - just garden-variety toe-up stockinette socks. They pretty much match, even though the ball had a knot I had to deal with in the second sock.
After the Ottawa socks came off the needles, I started a new pair. And finished them in less than a week.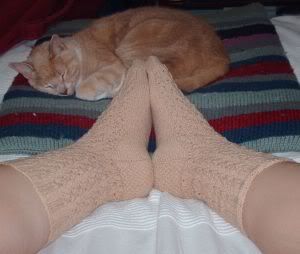 I used some of the Esprit I bought from Elann earlier this summer (in Pecan) and pulled out my handy-dandy
Sensational Knitted Socks
. First, I cast on 64 stitches and did the Corded Rib pattern. Well, that was too many stitches, and I didn't really like how the Corded Rib was coming out. So, the sock got frogged, I cast on 56 stitches and switched to Elongated Corded Rib. Add an eye-of-partridge heel, and voila - socks. Here's a closeup of the stitch pattern: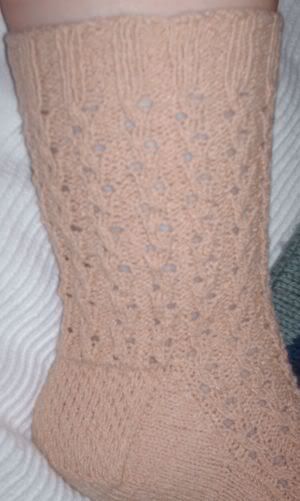 I started my next pair of socks last night, but they've already been frogged twice. I balled up my SweetGeorgia Kissed yarn:
pulled out my
Badcaul
pattern and set to work. I started on 2.25 mm needles. Way too small. Next up, 2.5mm. Now, the sock would have fit (I think), but there was a new and irritating problem: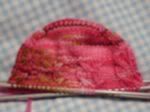 >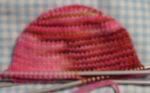 That's not a pooling pattern I can get behind. I still seemed to be way off on gauge, so up to 2.75s I go. I hope to get this working, because I really like the way the cables were turning out.
A couple of weeks ago, this followed me home from the LYS: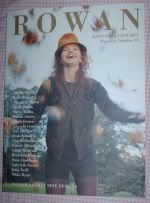 And yarn is now winging its way to me to knit up the
Anna socks
. I bought 8 oz of
Lisa Souza Sock!Merino yarn
in Sapphire. That should be enough to knit the Annas and knit a pair of socks for Mom too. For less than the Rowan would have cost me. Plus, her service (so far, and it's now out of her hands) has been SPECTACULAR. I placed my order at midnight my time on Thursday, and had a response in about 15 minutes. And the yarn shipped out on Saturday. Yay!
Which is good, because the Phildar peek-a-boo cable sweater is no more. Moth damage resulted in a frogging of the yarn. It is now laying about the dining room waiting for a good wash and sun-dry (it's not particularly sunny right now, so that's why I'm waiting.) It's really my own fault - I left it abandoned in a cupboard for a year. I will be knitting a different sweater, because I can't bear to reknit the original. It will now be a single-closure 2x2 ribbed cardigan. Since I don't have enough of the blue, I picked up a couple of balls of grey to use as contrast. I'll post a picture of the sweater when I'm underway.
Now, if you've managed to get this far, I need some help. I need to buy a dress for my brother's wedding in mid-October. I've narrowed it down to three, but can't decide between them. So tell me what I should buy!
Dress #1
- I love the color of this dress, but I'm not sure about the hemline.
Dress#2
- similar to #1 but with a better hemline. However, the color is ... questionable. (See, if they made #2 in the color of #1, this poll wouldn't exist, because I'd have bought it already.)
Dress #3
- I really like this dress, but it is October we're talking about. I think either of my shawls would go with this, or I could knock something out quickly (maybe ChicKnit's Cece).
So, tell me what you think. Feel free to leave comments, and vote in the poll. (And if you know of something that would look fabulous on me, tell me!)