Yet another Monday.

What's up with my knitting? I finished off the first of the Ottawa socks: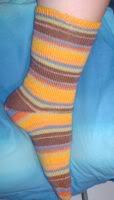 That's my foot modeling the sock, but the pair are for my mother. I may end up ripping back and reknitting the cuff at the last brown section if they end up being too binding, but that's a future issue.
I also finished the sides of the second sleeve for my Phildar sweater: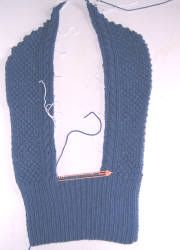 That's actually the first sleeve, but I forgot to take a picture and they look the same. I had abandoned the poor sleeve after the first of the shoulder decreases but wisely noted exactly where I had left off, which made restarting easy. I plan to work on the center strips tonight while watching "Prison Break" and "Deadwood." That would be the first season of "Deadwood" - it's going to run on History Television starting tonight. "Project Runway" also starts tonight (finally), but I'll either watch my tape or catch the 1 am rerun.
For Helen, a picture of the finished neck of Bias on the blocking board - the front is on the left, the back on the right.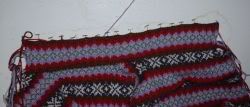 One of these days, I'll weave in those ends and sew the sucker up.
Finally, a peek at my sock drawer: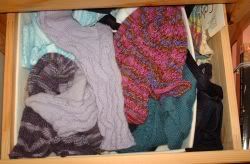 I had left it open after pulling out my Monaco socks to see if the Kitchener bindoff is loose enough to get over my mother's ankle. The blue and white peeking out of the top left corner are the fishnet stockings I knit last year from the pattern at the Victoria and Albert Museum's site in Elann's Esprit Print. (I posted at the knittyboard about them in response to somebody's enquiry, and someone else said you couldn't knit them in sportweight. I let it go, but it irked me, because I clearly did.) The light purple socks that are front and center are the Waving Lace socks from IK in Jawoll. The purplish socks in the bottom left corner are Pomatomus in Lorna's Laces Black Purl (a prize from Amanda). The pink socks on the right side are my Nautilus in Cobalt Bloom Socks that Rock. The blue socks in the lower right corner are Walking Away socks in Elann Essential sock yarn in one of the blues (North Sea or something like that, I think.) Buried under those socks are the commercial socks that I own, some basic gym socks and a bunch of cotton socks in various colors. It's summer, so they're all just lying there waiting for cooler weather. Photos of all but the Waving Lace socks are in the Flickr album associated with the badge on the sidebar if you want to see what they look like not heaped in a drawer!