Last week, when Elann put the Esprit prints on sale, I finally buckled. Mom really likes the Esprit, and I'd made her give me a list of colors (which I lost, but that's neither here nor there.) So, the order arrived today: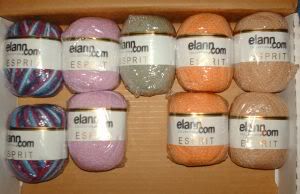 From left to right, Esprit Print in Fourth of July (Habs colors are bleu, blanc et rouge), Esprit in Pink Lavender, Silver Sage, Desert Peach and Pecan. Why is there only one ball of Silver Sage, you ask? Because I started a pair of
Broadripples
for Mom.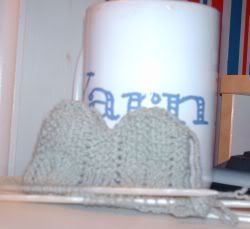 They were great band practice knitting, which I needed because the moron is even more moronic than usual (Thursday's concert, he expected me to have his music ready, he left his flute upstairs when sent up to organize his music, and I had to give him my copy of the playlist, because he "couldn't find them" in the place they've been for twenty years. Then the concert started....) The Fourth of July will also be Broadripples. I didn't start those since (a) Mom's been whining about socks, (b) her first pair of Esprit socks need darning, and I haven't gotten around to it yet and (c) I'm already working on socks for me - two pairs simultaneously would be selfish.
The socks for me are the Monaco socks in the sidebar, and the first one is done (except I should really rip out the bind off and make it looser):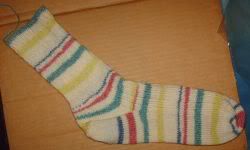 Toe up with a figure-8 cast on and a bottom up heel flap from Sensational Knitted Socks. Nice to change it up, but I'm not all that wowed. Probably doesn't help that the stripes don't really work nicely (plus the slip stitch pattern ended up as eye of partridge because I didn't pay attention to the instructions.) And the colors? Not particularly Monegasque to my eye, but that's Regia for you.
In addition, I'm whipping up a
Womb
for a friend. She lives in NYC, doesn't knit and wants a Womb. I knit, don't live in NYC and want yarn from Habu. A trade is born.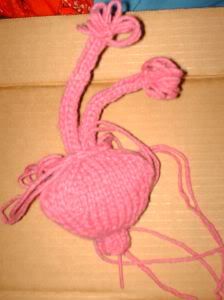 All I need to do is cram a little more stuffing in there and assemble the fallopian tubes. The yarn is Classic Elite Waterspun that I bought several years ago, double stranded. Worked out quite nicely.