Hi! Nice to meet you. I know you've read my questionnaire, and I hope that's given you some ideas. Since I'm a big proponent of "the more info available, the better," I turned up the Hurricane Sock Questionnaire, which I think might give you more food for thought. (Found at Knit Happened, edited to remove questions that weren't really all that relevant.) Feel free to leave any other questions anonymously in the comments.


1. If your pet(s) wrote a paragraph about you to describe you to us what would they say?

I love my mommy, but she ignores me for that silly string and stick thing. I'm a good girl and don't eat the string, but I frequently do my best to make it difficult to ignore me: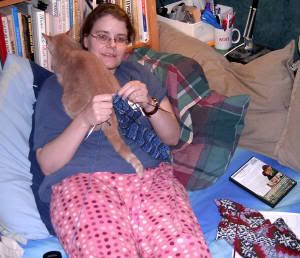 2. Do sock patterns normally fit you "as written" or do you usually modify them for size in any way? (other than foot length)
I've never had a problem with the patterns as written. The closest I came was with the Embossed Leaves socks I knit for my mother, and I later determined that the problem was the cast-on method more than the rest of the sock.
2a. What are your foot measurements, not just shoe size? (Measure the length of your foot from heel to toe, then the ball of your foot.)
Shoe size is a 9, heel to toe is
to be added when I (a) have a measuring tape handy and (b) don't have a cat on my lap
in and total foot is 9 inches and foot circumference is 8 1/2in.
3. What one city abroad would you visit and why if money was no object?
Paris. Why? Because I've always wanted to go. Wandering the museums, the designer showrooms (hey, money no object? Come to me,
lovely Balenciaga cable-knit sweater
), cafes, etc.
4. Do you wear socks all year round or just during the winter? Do you prefer them tall or short or regular height?
I wear socks when I leave the house in the winter, because it's Canada and it's cold! I tend to go barefoot around the house all year round, although I sometimes wear socks to bed because I can't always get to sleep if my feet are cold. I generally knit regular height socks, although my gym socks tend to be ankle length.
5. Make a wish for your favorite sock yarn that you've already used once. What would it be?
I really loved Lorna's Laces Shepherd Sock. I knit my Pomatomus socks in Black Purl.
I also really liked the Koigu I used for the Embossed Leaves, and have more of the same that will eventually be socks for me. (Go figure, you can't buy Koigu in a store where I live. At the LYS one day, four of us had Koigu, all acquired from the US.)
I've got some Socks that Rock in stash (Lapis for Mom and Cobalt Bloom for me), waiting for the number of hours in the day to increase to 48.
6. What is it about sock knitting that keeps you wanting to knit more and more socks?
They're the ultimate in portable projects, and generally simple enough to knit at band practice, which can be difficult because it's lots of pick up sock, knit a few stitches, drop sock, pick up instrument. (And the Madame Dufarge and baby bootie cracks are wearing thin...)
7. Make a wish for a sock yarn that you are dying to try but haven't bought for yourself yet. (be specific,even colorway if you'd like)
I love my LYS and they have a lot of sock yarns, as long as you like Meilenweit (it used to be mostly Regia). The handpainteds are pretty rare - there are usually a few skeins of Fleece Artist about, but the colors never impress me. So the list would include Fleece Artist/Handmaiden, Cherry Tree Hill (I really like Sugar Maple, even though it's nothing like my usual choices), Vesper (although I think you need to either know someone or sacrifice a goat or something), Sundara (I like the look of the sold-out
Trompe l'oeil
), Claudia's Handpainted, Zen Yarn Garden, Sweet Georgia Yarns, Cabin Cove Mercantile and Lisa Souza.
8. What size needles do you knit socks for YOURSELF with the most? Are they circular or bamboo needles? What brand?
Generally 0s or 1s (2mm or 2.25mm), because I like a tightly knit sock. I've got some 1.25mm that I'm trying to match up with a yarn. Always DPNs (Magic Loop irritates me no end, and if I use two circulars, I always end up knitting all the stitches onto one circular) and generally Inox/Aero metal needles. I do have bamboo dpns (a mish-mash of Skacel and Clover, I think) that I use if the metal ones aren't working (the Monaco yarn is cotton/wool/something man-made, and the metal needles kept sliding out of the stitches!)
9. What is your favorite tv show?
Currently, Project Runway, which is rerun at 3 am. Good for an insomniac. During the regular TV season, Law and Orders of all flavors, CSI (Vegas only), Without a Trace, Gilmore Girls, House, Prison Break. The random stuff that isn't on air anymore - Buffy the Vampire Slayer/Angel, Oz, The Wire (OK, it's still on, but it doesn't air on a Canadian station other than the Movie Channel, so I rent it on DVD), Homicide. So lots of procedurals, and a few other things.
10. Do you want a lacey sock or a "solid fabric" sock?
I like both, and the sock pattern is going to depend on the yarn, so whatever works.
11. What color sock would you like to receive from your sock sister? (if you don't have a pref just say so otherwise give us a hint!)
As I said in the questionnaire, I tend toward blue, green, grey and pink. However, when it comes to socks, I'm more flexible. The "no" colors still apply as the main color of the sock, but accents of those don't bother me. Dig through my finished items (the
Photobucket finished objects
is far more complete than my Flickr account), poke through the archives, or just buy what inspires you!