Many of my recent technical issues are resolving themselves.

The washing machine has been fixed, so I can soak and spin the pieces of Bias in preparation for blocking and seaming. (It also means I can wash clothes, but since I usually go about a month between laundry days, that's not particularly important.)

The digital camera has been replaced. The new camera has a higher pixel quantity (5 MP as opposed to the old 2.1MP), but the LCD is a bit slow to react. We could have paid the difference for a speedier LCD, but it's not a huge issue, since most of my pictures are posed. It also meant that the service plan also covered the plan for the new camera, plus a copy of "Pretty Hate Machine" by Nine Inch Nails, plus $6 extra to be spent at a later date. The new camera is much smaller, and my picture quality is sucking again while I get the hang of how it works. There will be some craptacular pictures later in this post.

I've got the iPod up and running. Once Apple finally called me back, I got the uploading process started, and it locked up after 188 songs (total to uploaded - 1752). It didn't screw up the iPod in any way, so I poked around HP/Compaq's site looking for the relevant drivers. None of them really looked like the right one, although there was one that was close. I downloaded that one, and e-mailed customer service to see if there were any others that I needed. I'm still waiting to hear back from them, but decided to try downloading more tonight. And it worked! I now can listen to all of my music. Yay!

My DVD rental issues are still a little bit in flux. They sent out three discs on the Saturday after Good Friday. Since AFAIK the post office doesn't work on Saturdays, nor any holiday they can get away with, I doubt the movies actually started the process of getting to my house until Tuesday. Then, three more were sent out on Thursday. All 6 movies arrived on Friday. Giving me a total of 796 minutes of movies (or a touch over 13 hours.) So I watched "Arlington Road" and "The Big Lebowski" Friday night (both are decent movies) and "Fallen" tonight (sucked.) Tomorrow night will be "Catch Me if You Can" and "Matchstick Men", leaving "The Deer Hunter" for next weekend. A manager is supposed to get back to me next week about my inquiry, leaving it vague as to whether it's about the scheduled shipping screwup, or my free movies inquiry. (They claim that every member gets at least 2 free DVDs per year, yet I've only gotten 2 over my 2 1/3 years of membership. I'm guessing that the lost DVDs play into the equation, which is reasonable but not particularly fair.)

And the Canadiens won big tonight in the opener against the Carolina Hurricanes. Which looked bad in the first minute (when the Hurricanes scored) and much better through the rest of the games (6 goals for the Canadiens.)

Now for photos. First, the Socks that Rock for me in Cobalt Bloom:


and in Lapis for Mom: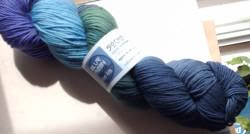 The Lapis is tentatively scheduled to be knit into Pomatomus, and the Cobalt Bloom is TBA.
Now, some actual knitting! I started swatching up the Svale for Calla: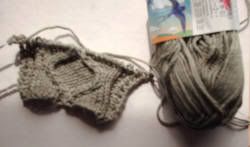 This is on the metric size specified in the pattern, and I think it's too small (I'll give it a dunk to see if it blooms to size.) Strangely, the metric and US sizes didn't match my mental standards - I always think of US5 as 3.75mm. So I straightened a set of those as well, so they're ready to go. I plan on knitting Calla in the round because I don't feel like sewing side seams. Nyah. (Oh, and one of the other Thursday knitters bought the grey yarn I had wanted.)
And, the eternal knitting project known as Spring Leaves: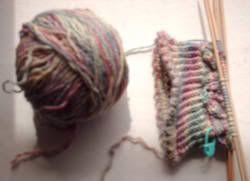 That's take three on the cuff with a picot cast-on. (At least I no longer need to refer to the chart!) All my movie and game watching has taken me to the gusset decreases. This time, I did an eye-of-partridge heel flap, which I really like. Newer pictures will follow in the next post - hopefully, they won't be as fuzzy.