I kept meaning to post, and just not getting off of my ass and actually doing it. First up, the knitting progress.

I finished knitting up the mystery project about a week ago, and took a picture: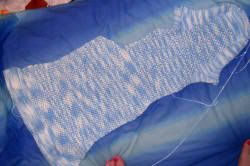 What the hell is it? It is one of a pair of these: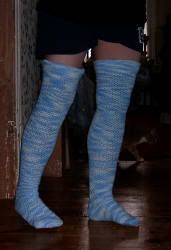 Fishnet stockings, knit flat and seamed up. The pattern came from
the Victoria and Albert Museum
. Since I have no clue what "Maygrove's Sylspun Hosiery" yarn looks like, I dove into the stash and came up with some leftover Esprit Print and swatched. The gauge matched, although I'm sure it is far thicker than the original. They make a lovely substitute for long underwear when forced to stand around for 45 minutes waiting for a parade float to show up. (Note - that was the second float I was supposed to ride on this year that didn't show up. I'm taking it as a sign that I'm a jinx and if you want your float to arrive, you need me to stay home.) Here's a closeup of the top, to show of the fishnet texture: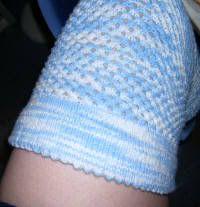 I really like these, in spite of the fact that they really used a lot of yarn - about 3 balls per stocking. I may futz around with the concept for a simpler pair of socks. (Or not.)
So, once I finished those, I whipped out the needles and started on Dad's hat for Christmas. I'm on take two and still not happy, and will start take three in the near future. So I'm working on Melly socks instead. I'm trading my love of tiny needles and fine yarn for a fix from the LOYM. I figure it's a fair trade. Once I got the numbers and did the pattern math, this is the result: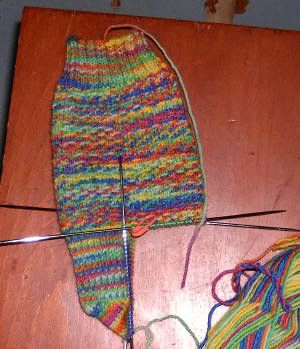 This is a few days work, and I would be farther along if I wasn't such a perfectionist. I erred early on and purled two stitches instead of slipping them with the yarn in front. Was it egregiously noticeable? Probably not, but it would have driven me nuts. The heel flap and turning were probably the only things keeping me sane while watching "Just Married." I am not a fan of either Ashton Kutcher or Brittany Murphy, yet I tortured myself with them for a Christian Kane fix. When the best part of the movie is a "Hey, I recognize that song in the background!" moment, the movie bites. My other weekend DVDs were much better - the last two discs of
The Last Chapter
. Admittedly, I'm generally a fan of crime dramas, but it's nice to see a Canadian program that doesn't look like it was made for $1.66.
I also (a couple of weeks ago) attended the Spinrite seminar at my LYS. Forty-five minutes were spent trying not to look revolted by the array of petro-yarn de-lites forked over to me at a scarily rapid pace - Spinrite being the parent company of Patons, Bernat and Lily (and Lily not seen in the garments.) Get the feeling I wasn't impressed. Then a hands-on demonstration of mosaic knitting. Wasn't particularly difficult to master, but my swatch wasn't particularly ... visible. The second color just vanished, but I'm not sure if it was a color issue or a gauge issue or what. Maybe at some point I'll futz some more. I came away with a stack of Patons and Bernat patterns (some of which are tolerable and others of which are - camoflage pants), a pair of 4.5 mm straight needles and 2 balls of Patons Decor in shades of pink. Isn't my enthusiasm just oozing off the screen?