Let's start with the knitting. That's what y'all show up for, and I don't think anyone's obligated to listen to the whine (I just need to vent it somewhere.)

First up, the denim pullover: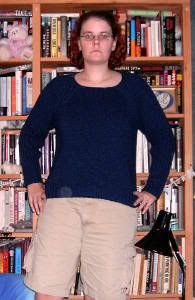 A nice comfy sweater. For a closer look, click
here.
(I'm too lazy to futz with thumbnailing it - the link will open up a new window with a nice look at the top half of the sweater, showing off the neck and the basic construction of the sweater.) The shawl is progressing, but I keep fucking it up, so it's in a bit of a timeout. The leaf lace socks are back in rotation, with all the problems I was having now resolved. A new project has appeared - Potluck Sophie. I ordered a grab bag from the Cherry Tree Hill sale, and my "haul" was 2 single skeins of the Potluck Worsted (one being knit up as a Sophie bag from Magknits, to carry socks-in-progress), 5 skeins of the Possum Worsted (3 blue, 2 teal) and a Cherry Tree Hill pattern for a tank or sweater.
On to the whining. I was
disappointed in
underwhelmed by my CTH package. Don't get me wrong, it's lovely yarn. But I was hoping for finer gauge yarn. I would have loved some handpainted sock yarn or laceweight. This stuff is pretty much the upper end of my preferred yarn weight. The possum will probably end up being scarf-ed and the other skein of Potluck will eventually find its purpose. I think I'm also a bit frustrated because other people got magazines with their purchase, and I got a pattern for garments that don't even use the yarn I bought (the tank is nylon ribbon and the sweater is cotton.) Maybe it's just jealousy. Whatever.
It's not helping that all the lists I read are degenerating into idiocy. I've discussed my problems with the Knittyboard in the past, and I'm slowly coming to terms with the fact that it's not ever going to be what I want (because I'm a freak of nature). The newly renamed Lace for All Seasons was not a list I had high expectations of, and I was right. I've picked up a few tips and rapidly scan through the rest of it. The big problem is the KBTH (Knitting Beyond the Hebrides) is going through some ... growing pains - not exactly right, but close. List management has undergone a change lately and the list isn't continuing on in its previous vein right now (at least in my opinion.) The problems have also flowed over into knitflame (much like a clogged toilet overflows), making it wonky at times too. I'm going to give KBTH a while to settle down, but it's driving me batty when my sane standby lists are turning into bizarre things. Thankfully my snark board is in fine form, and has added some new fora, including the sickly fascinating TMI thread (it started with Brazilian wax jobs and has kept going in new and odd directions.) I post (rarely) under another name (and not in TMI because I fall on the lifelong Catholic nun side of the spectrum). It's nice to have a forum for those feelings.