The right side of my jaw is aching. I think I'm clenching in my sleep or something (although not so much now, since pain ain't helping sleep.) Mushy food is in my future.

To answer Zib's question about lacy stuff in my future, this is what's next: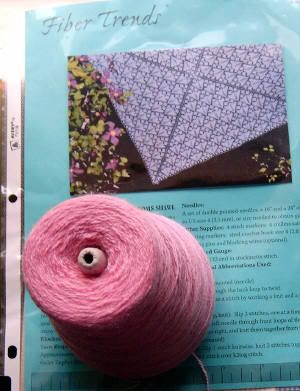 The Spring Blossoms Shawl by Eugen Beugler and about 8 oz of Jaggerspun Zephyr in Ladyslipper. I ordered from
Moonrise Lace Knitting
in Pennsylvania, and it arrived in about a week. She sent me more yarn than I ordered (because I screwed up ordering, and it was the easiest way to solve my screwup.) I love the Zephyr - oh-so-soft. I think there will be more in my future, since I've found
another shawl
that I want to knit. (My women's fraternity flower is the rose (General Jacqueminot, if you want precision) - I just need to figure out which color is deep/crimson/cardinal red.) However, I will finish Spring Blossoms before I start another shawl. I've been testing out the ease of knitting with some DK and my 5 mm dpns, and it's not that difficult a knit (yet).
Since I need a teensy crochet hook before I start Spring Blossoms, I'm plugging away on the Denim Pullover. The sleeves and body are joined, and I've done 5 of 43 decrease rows. They don't lie when they say the color bleeds. Since I bought 2 packs of dpns (Aero sells in sets of 4 and I prefer 5), sleeve one was left on 3 needles and the other two joined the previously extra three:

Scary. Since I haven't posted a picture of what it's supposed to look like (except mine's a dark dark blue, and I'm one of the whitest girls on the planet):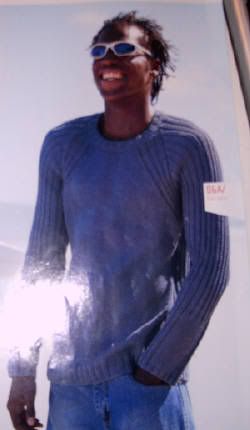 In the "Damn, there's too much cool stuff on the internet" category, I bought me a new t-shirt. Zib, I think you'd like the
shirt I bought
, although the rest of the line would probably send you off into multiple rants. Those of you in the uber-liberal camp may enjoy the other shirt, though. Thus ends what passes for political commentary on this blog.